Viking Tattoos, Art, History
Images & Tattoo Ideas
Viking, Nordic, Norse, Scandinavian, styles of Tattooing
We do All styles of Custom Tattoos.
Offering Custom unique Tattoos, Nautical, Ladies Fine Line, Fancy Watercolors, Expert lettering and Calligraphy, Black & Grey, or, Extremely colorful designs, American Tradition Tattooing, Military, Sailor Jerry styles also. Tribal & Native Art specialist, Expert with COVER- UPS & Repairs, Realistic Tattoos, Dot work, Viking & Nordic Work. Dot-Work. Renowned for CELTIC Tattooing.
Tattoos by Captain Bret & Celtic Tattoo




Wicked COOL Video on YouTube
email

email
Viking Tattoos, Art, History, Images & Tattoo Ideas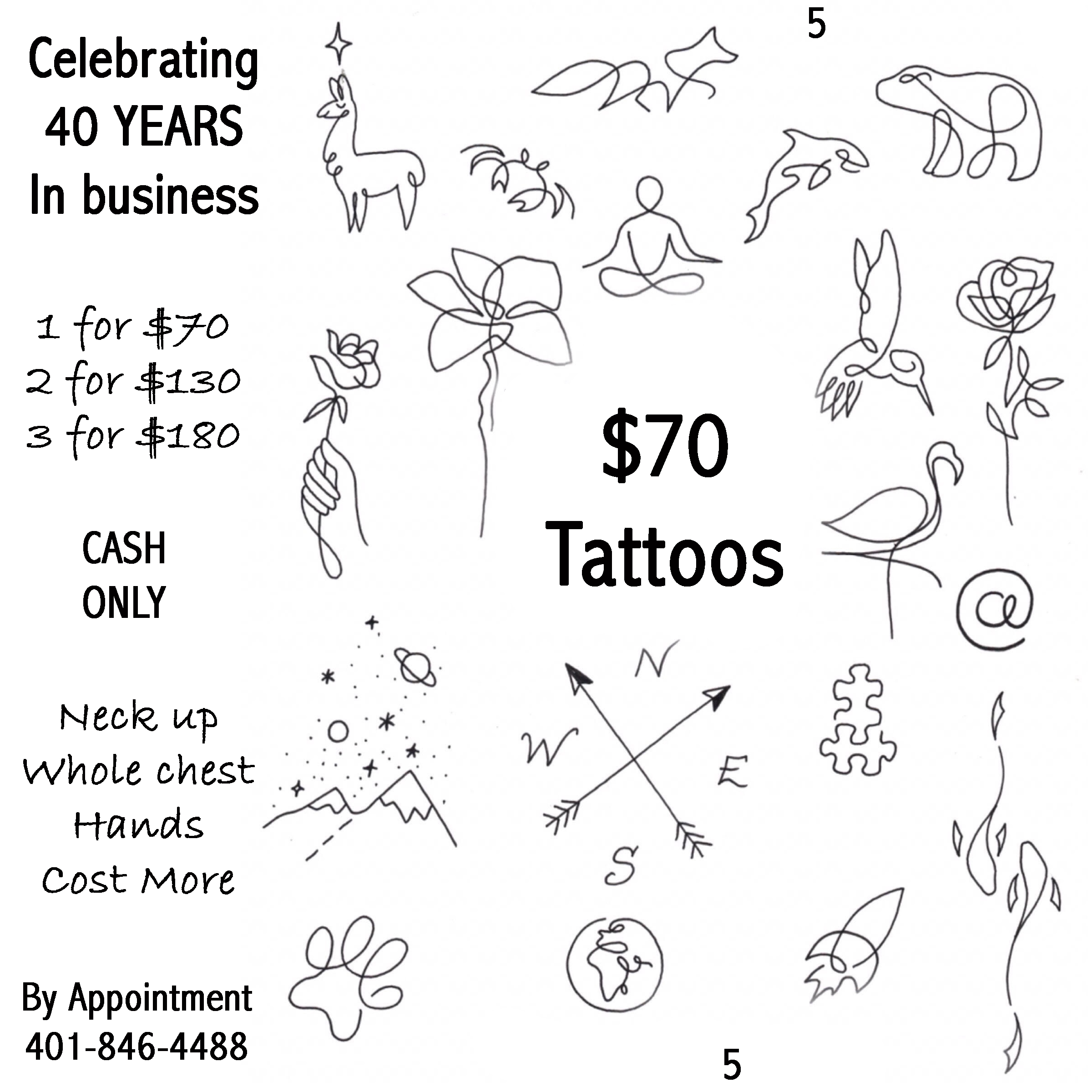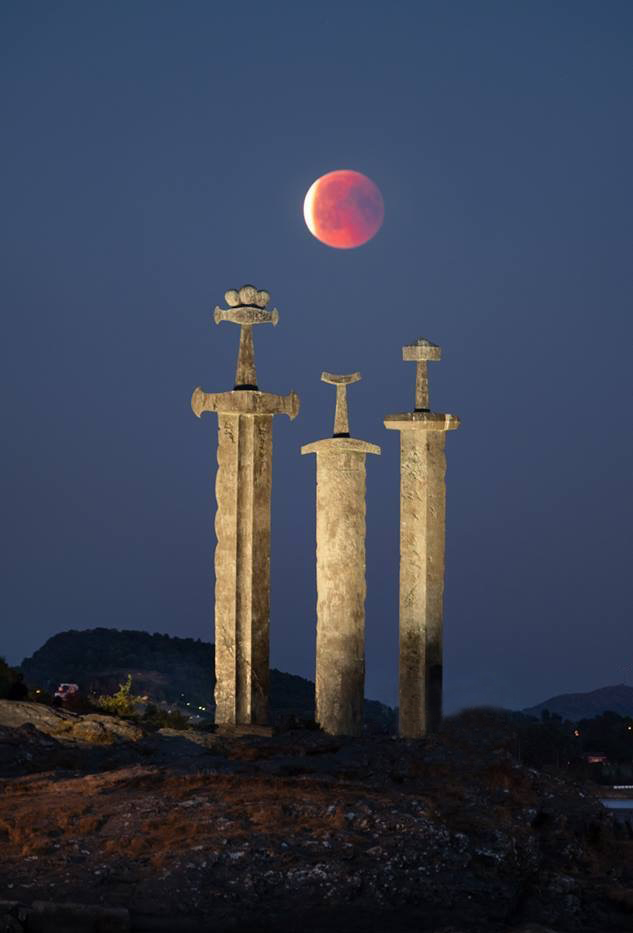 Did Vikings have Tattoos?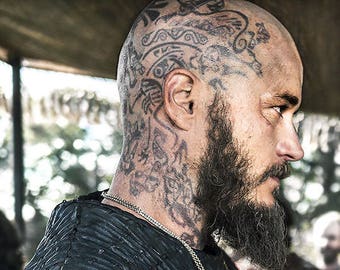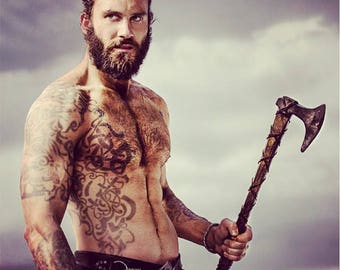 History tells that the Vikings were covered in tattoos from the tips of their fingers to their necks. Viking tattoos were consist of ancient Norse symbols, various knot patterns or dark green symbols of trees. No one can really confirm the symbols or the patterns or designs that the Vikings used to use for their tattoos but it is likely that they would have used symbols from Norse mythology and the ancient designs found in their artworks on the jewelries, carvings on bones, boats and other artifacts.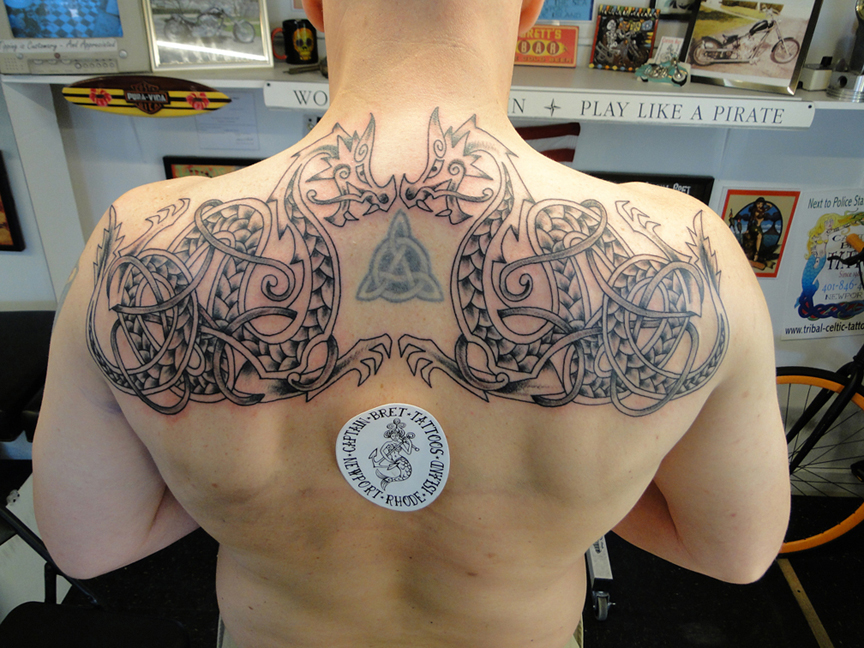 Viking- Nordic-Norse -Scandinavian styled Dragons. A Custom Tattoo by Captain Bret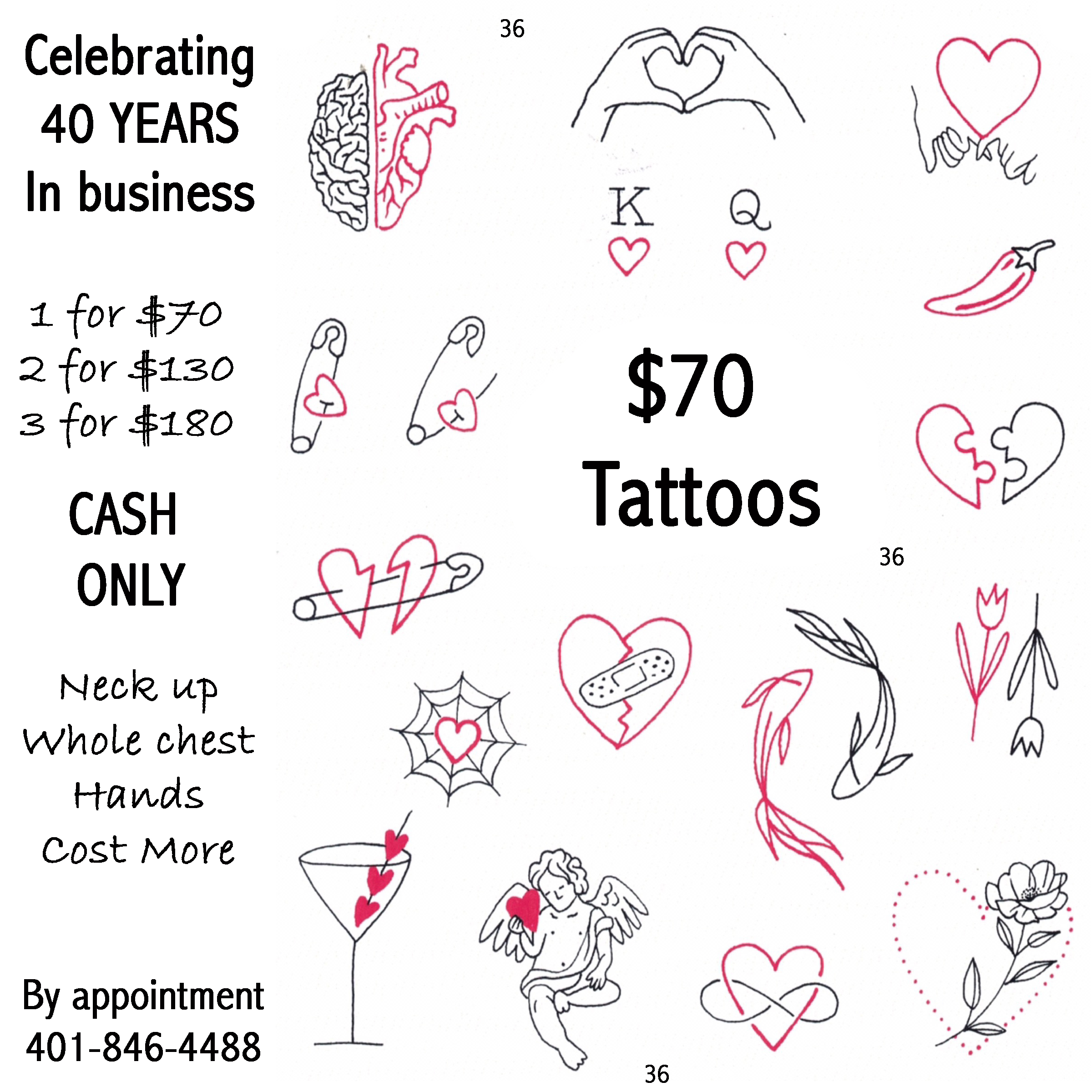 Did the Vikings have tattoos?
One piece of historical evidence says yes, at least those Swedish Vikings who raided and traded through Russia probably.
Ibn Fadlan describes the Rus in his travel chronicler. He called them the "Rusiyyah," now commonly known as the Vikings.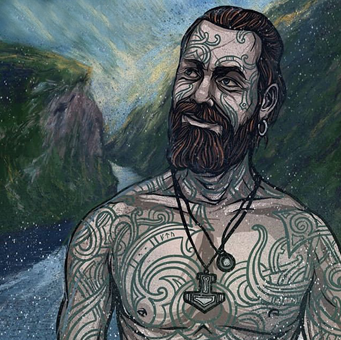 "I have never seen bodies as nearly perfect as theirs," he wrote. As tall as palm trees, fair and reddish, they wear neither tunics nor kaftans. Every man wears a cloak with which he covers half of his body, so that one arm is uncovered. They carry axes, swords, dagers and balways have them to hand. They use Frankish swords with broad, ridged blades."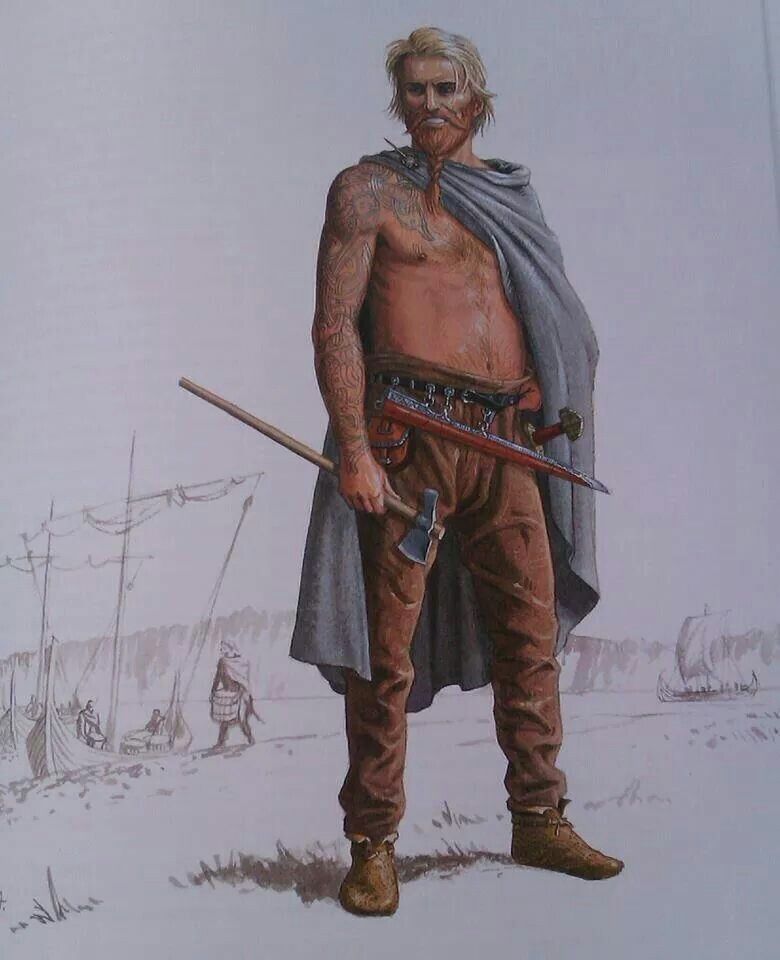 At one point he mentioned that all the men were tattooed from the tips of their fingers to their necks.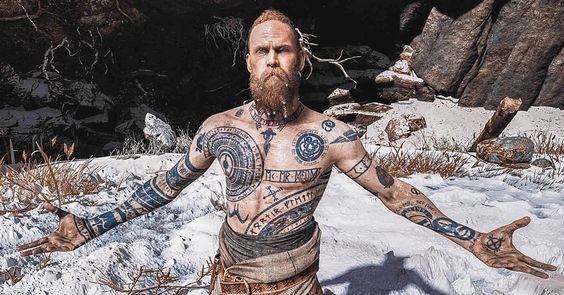 The tattoos were dark green figures of trees and symbols. It is likely, however, that the tattoos were probably dark blue, a color that comes from using wood ash to dye the skin. While Ibn Fadlan describes the tattoos as trees, he could have see the Vikings trademark gripping beast or other knotwork patterns of which the Vikings were Tattooed with.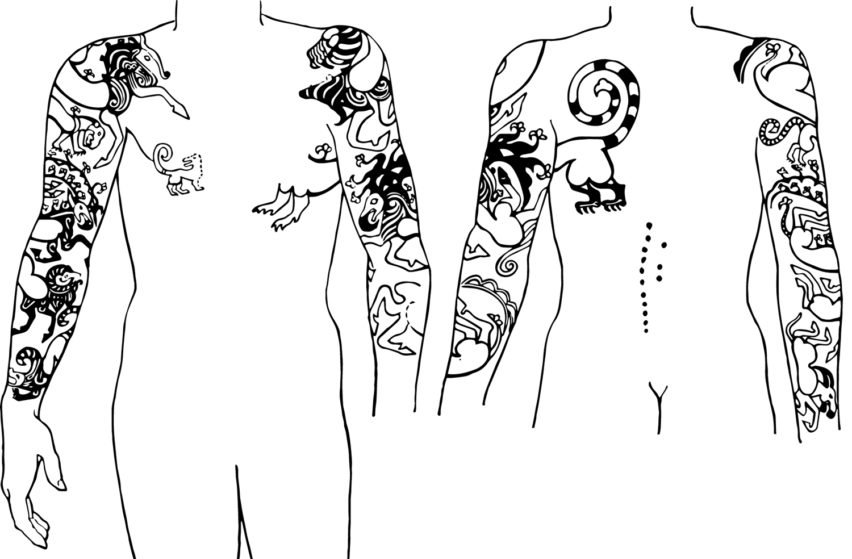 Exhumed Viking Tattoos
Unfortunately, human skin does not survive centuries of burial. However, a Scythian chieftain was found in Siberia who had been buried circa 500 B.C. He had been buried beneath the permafrost, so his skin and tattoos survived. While this find predates Viking traders in Russia by 1300 years, it is possible that Vikings could have met the descendants of the Scythians while on trading missions in Russia and learned the tattooing art from them. The Scythian warrior's tattoos had Scythian art styles, of course. If Vikings did have tattoos, it is likely they would have used Norse designs and symbols found in their other artwork on bone carvings or jewelry.

WHY DID BOTH THE CELTS AND THE NORSE USE KNOTS?
Both the Celtic and Nordic cultures used knot work, in their pottery, in their paintings, and even in their tattoos. But as these two cultures were often at odds historically, how did they come to share this beautiful form of art? And most importantly, which should you choose to emblazon your arm with? To begin, let's compare Norse to Celtic knots.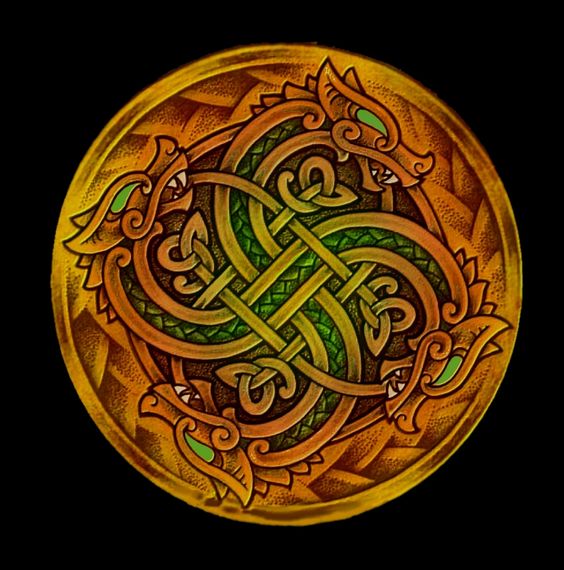 The Differences
Celtic knot work, tends to fall under a very strict, mathematical format. Celtic knots are well-defined, and typically one continuous, solid line that curls in and around on itself.
The kno twork in both countries are very similar, and thanks to their revival in tattoo shops around the world, a lot of modern-day artwork utilizes the influences of both cultures.
Typical Celtic motifs also include spirals, lace, key, and step patterns. The line is heavier and the design is more abstract, whereas Norse/Viking art is more likely to depict people, animals, and things.
The History
In terms of history, the Celts can claim they had the idea first. The oldest knot work in that region of the world comes to us thanks to the ancient druids. Judging by the spirals in places like Newgrange outside of Dublin, they may even have their roots in Neolithic times. The artwork's revival after the birth of Christ can be traced to the early 600s, when Celtic monks translated classic works from the east into the beautiful illuminated manuscripts that we love today, such as the infamous Book of Kells.
The Norse had long harried the shores of what is now the Scottish Orkney Islands, but during this time period and through 1200 AD, they made their way down the British coast to Cornwall, and even to Ireland. The two cultures influenced each other. You even start to see Celtic knot work picking up people and animals, and losing their shape.
Vikings History — Norse Mythology
In the world of Norse mythology, we find gods and goddesses, giants, strange and powerful creatures, elves, dwarves and land spirits. It is difficult for a 21st century person to conceive of the worldview of the Vikings, brimming as it was with such a variety of spiritual beings.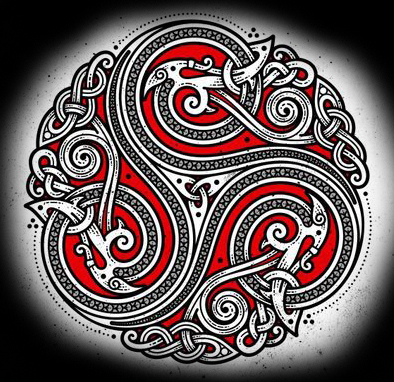 Gods and Goddesses
The gods and goddesses venerated by the Vikings are Odin, Thor, Loki, Baldur, Frigg, Freya, Freyr and Njoror. There are many other gods and goddesses in the Norse pantheon but these received the primary attention in the sagas and eddas.
Odin, the allfather, the one-eyed seeker of wisdom, god of magic, war and runes, hung himself on Yggdrasil for nine days and nights to find wisdom, brought the runes to mankind
Thor, with his magic hammer Mjolnir, protects mankind and his realm of Midgard, god of warriors
Loki, a dangerous half-god, half-giant trickster always wreaking havoc among the gods
Baldur, son of Odin and Frigg, a beautiful and gracious god, beloved of all, killed by Loki's trickery
Frigg, wife of Odin, practitioner of magic, goddess of the home, mother of Baldur
Freya, feather-cloaked goddess of love and fertility but also of war and death
Freyr, her brother, god of farming, agriculture, fertility and prosperity
Njoror, powerful god of the sea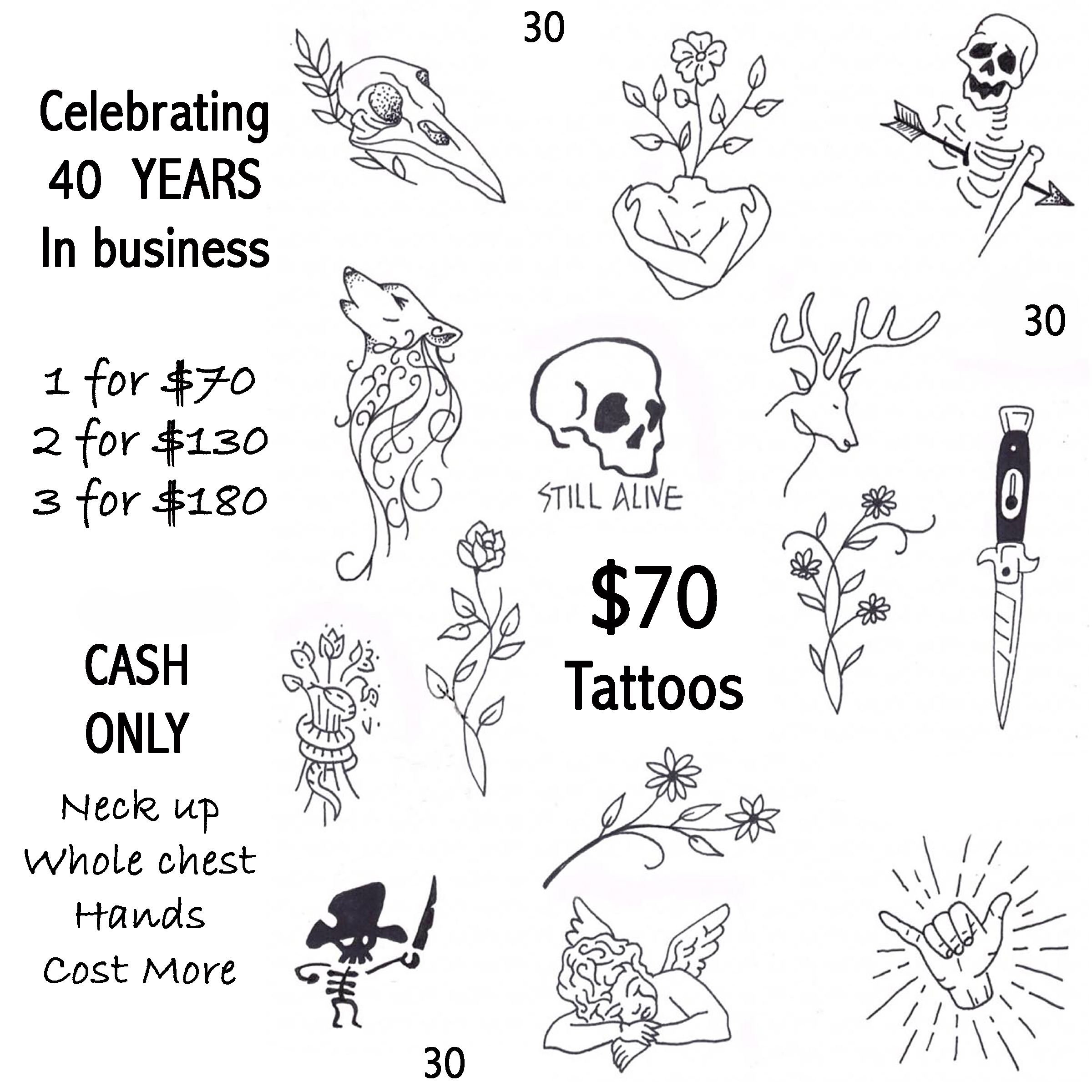 What Should I Pick? A Celtic or Viking Tattoo ? BOTH STYLES MAKE GREAT TATTOOS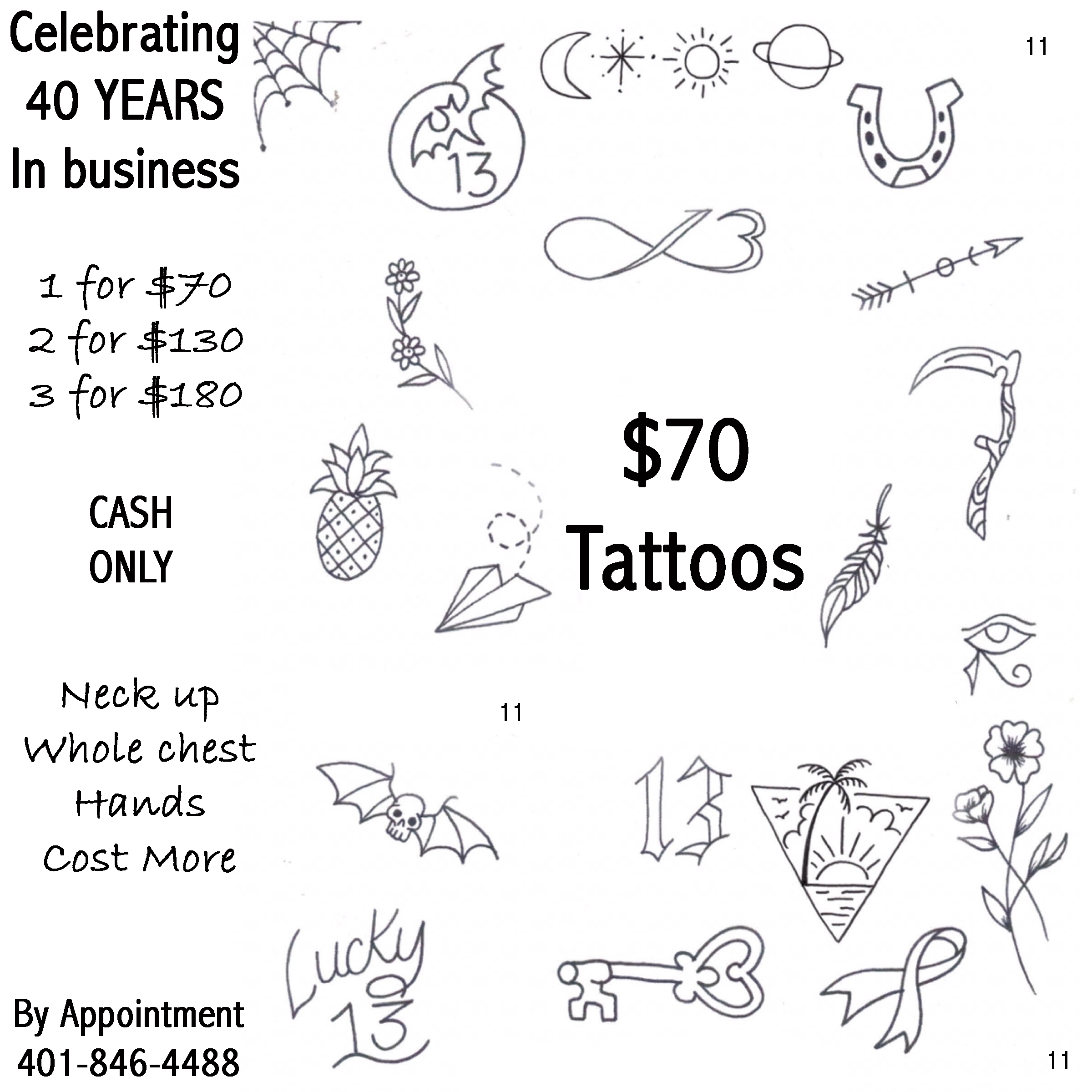 Modern Viking Tattoo Designs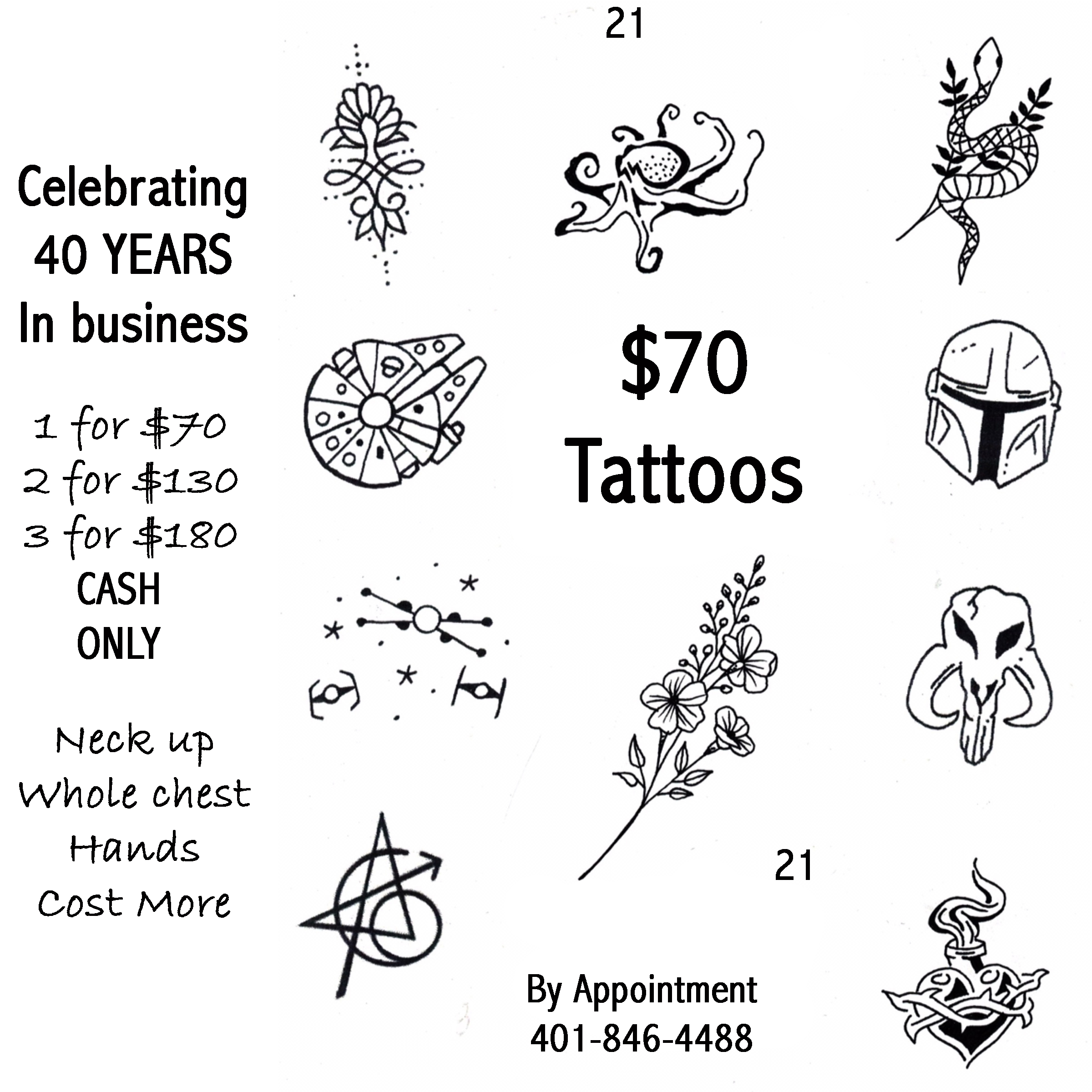 These days Viking tattoos are very popular among the people with Norse heritage who like to show their pride by carrying Viking tattoos on them. Others get Viking tattoos fascinated by the Norse mythology, culture and beliefs.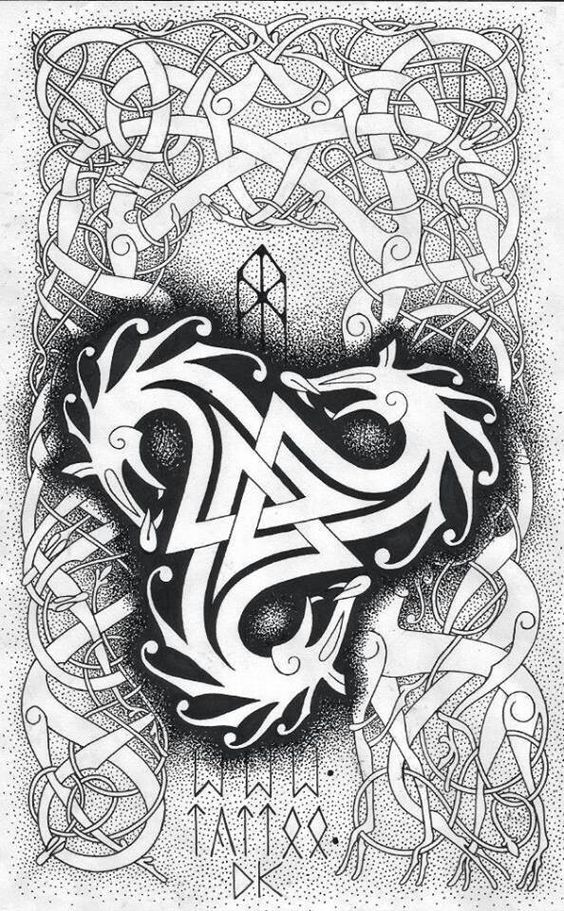 Many tattoo artists have designed Viking tattoos, which can be easily found in many places online.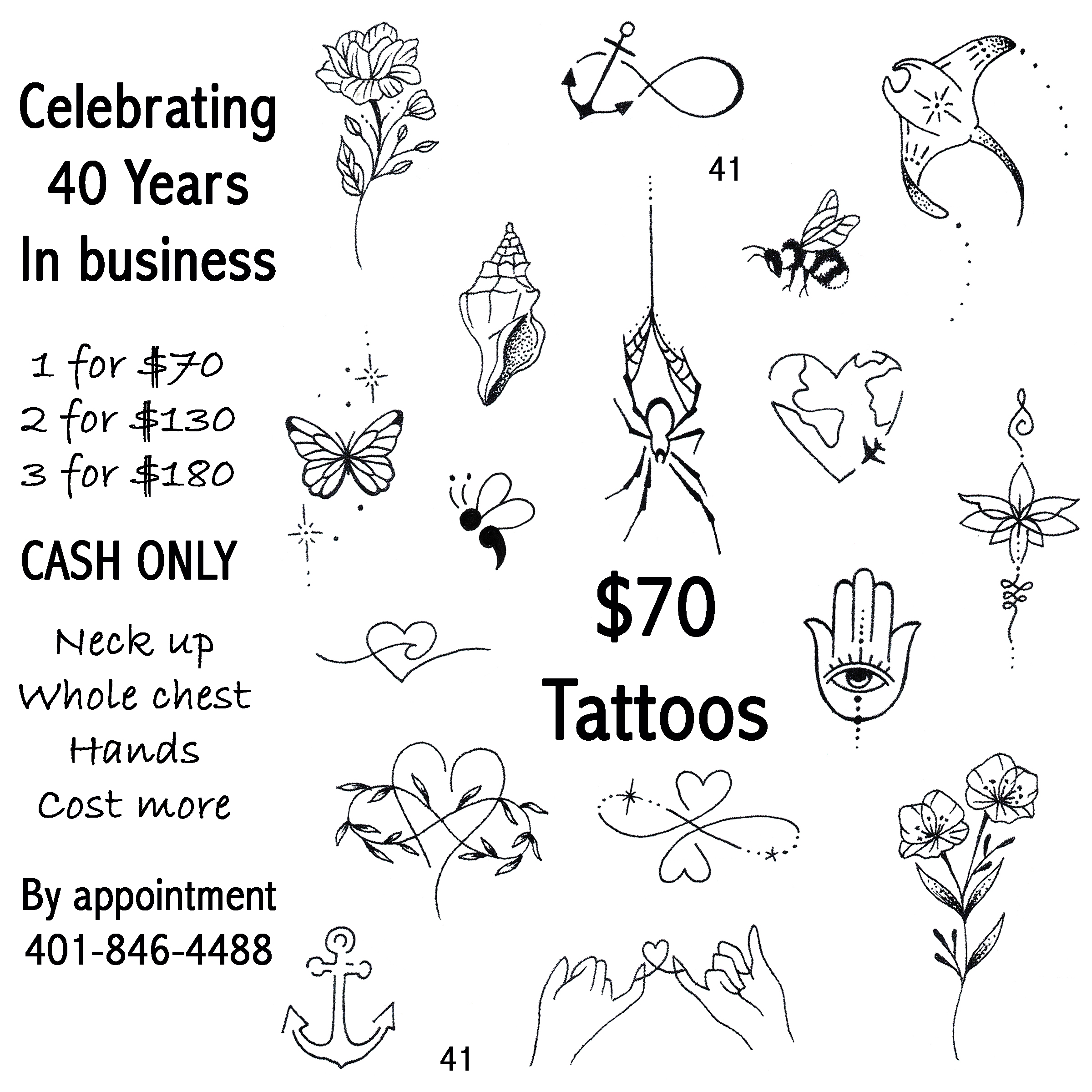 ODIN
Odin was the principal god in Scandinavia.
Viking symbols play a large role in their iconography, just as they do in all societies. Symbols are cultural shorthand, a sign that conveys layers of meaning about the culture. The pagan Vikings used symbols to represent their gods, beliefs and myths.
Vikings History—Symbols Tattoos
Viking symbols play a large role in their iconography, just as they do in all societies. Symbols are cultural shorthand, a sign that conveys layers of meaning about the culture. The pagan Vikings used symbols to represent their gods, beliefs and myths.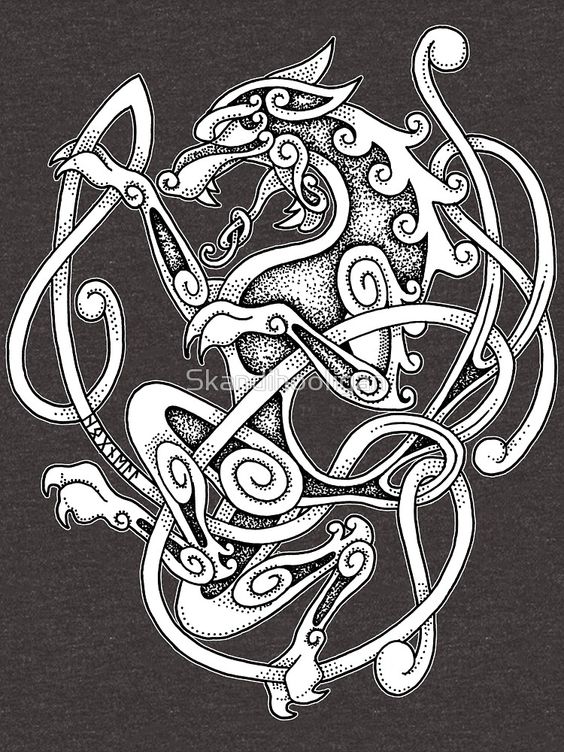 Cultural symbols can take any form, such as sounds, gestures, words, pictures and images. Most of the Vikings symbols we know about were carved on rune stones, swords, axes and other items precious to the Norse people. The sagas refer to amulets the people wore, such as Thor's hammer, Mjolnir. In the article on Viking art, we learned that the Vikings loved decorating the items around them, their weapons, bowls, tools and combs. They used their symbols in the decorative arts, in weaving, bone carving and in jewelry.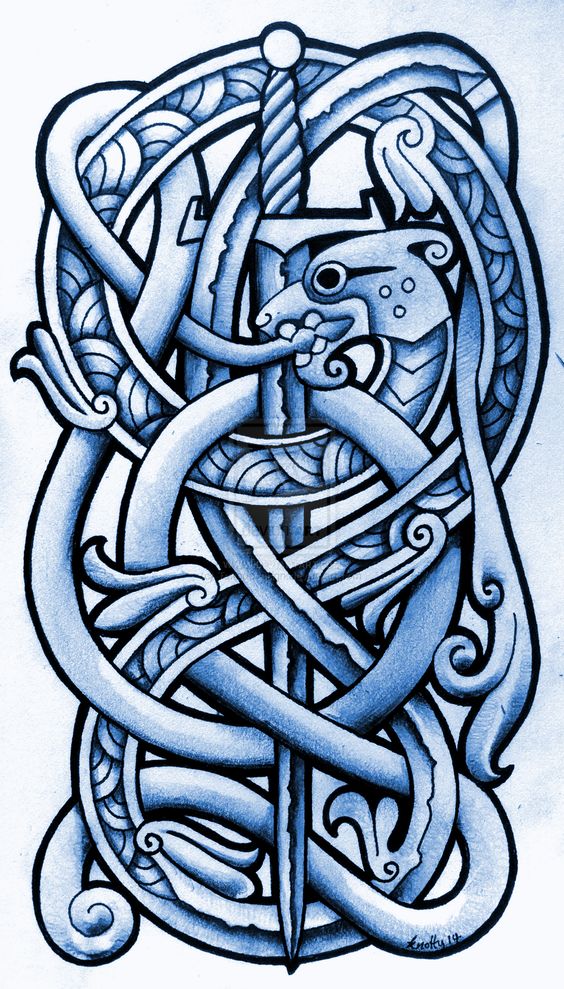 While some Viking symbols remain mysterious in that we don't know exactly what they represent, but others have clear meanings. Many Vikings wore Thor's hammer on thongs around their necks. Jewelry, rune stones and valuable weapons were often engraved with the symbols that mattered the most with the Vikings are the Valknut, the Helm of Awe and Thor's hammer.
The Valknut – Odin's Knot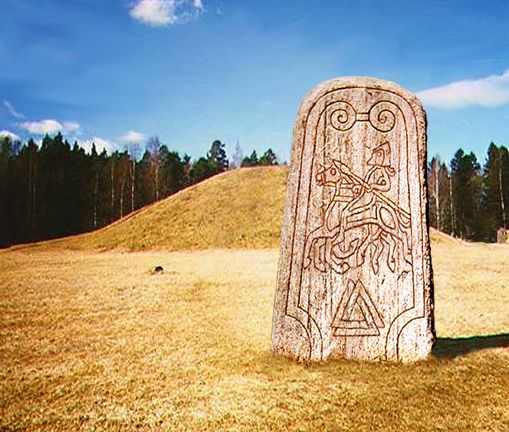 The Valknut is a mysterious Norse symbol consisting of three interlocking triangles. The word Valknut came from the Norse words valr "slain warriors" and knut "knot". According to the archaeological record the symbol was found on several rune-stones and carved on various objects found in Viking ship burials so it is often associated with the idea of death in a battle and symbol of Odin in Norse mythology.
The nine points of the three triangles symbolize the nine worlds of the Vikings, which will be discussed in the section on Norse mythology. The Valknut is representative of Odin, the father God of the Vikings, and his power of life over death. The Valknut is often carved on funerary steles and memorial runestones.
The Horn Triskelion – The Triple Horns of Odin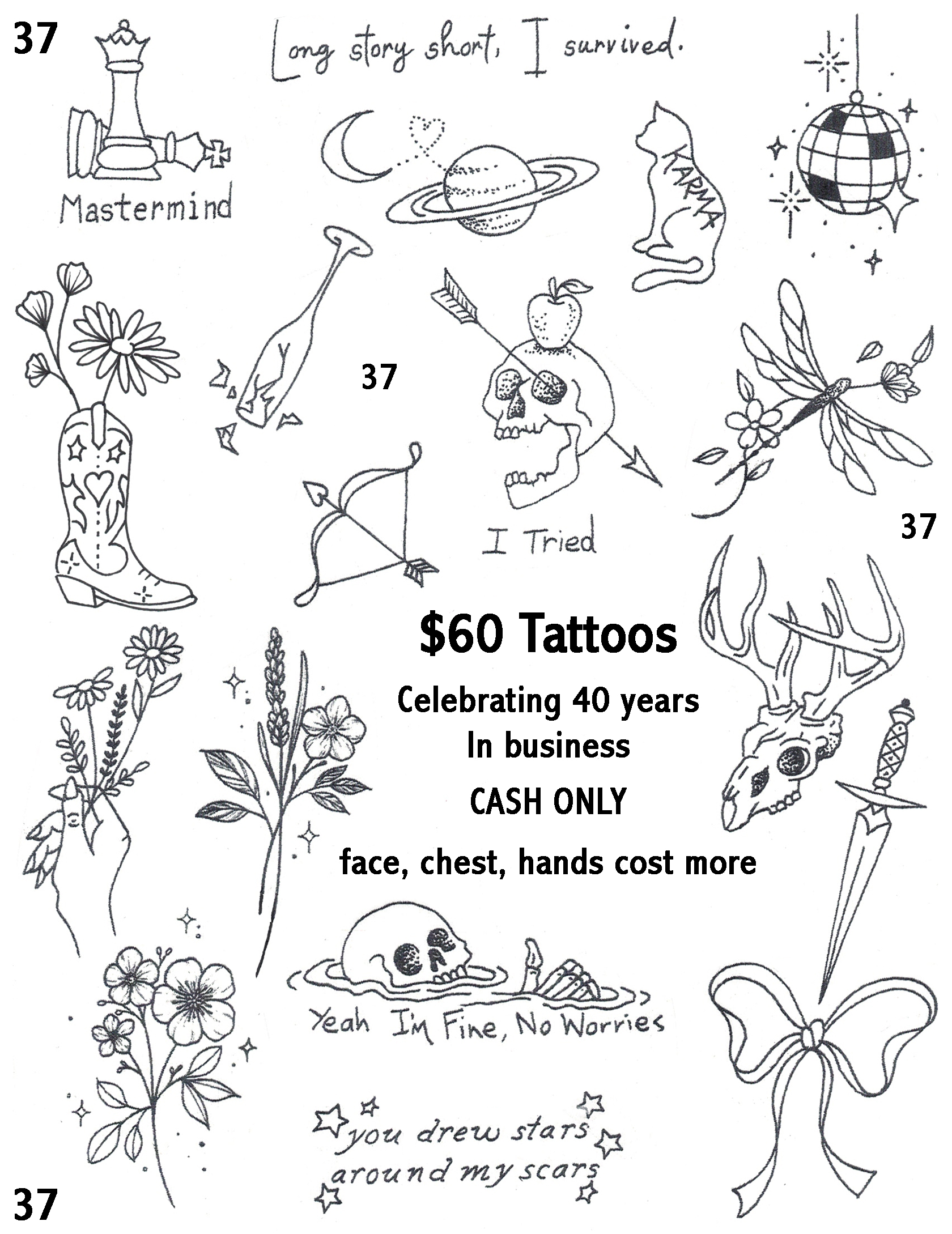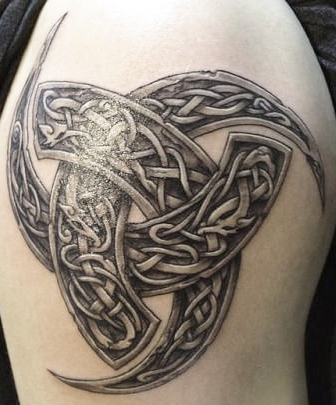 Triple horns of Odin is a Viking symbol made of three interlocking drinking horns which is a symbol of the Nordic god, Odin. Triple horns of Odin also referred as a symbol of Wisdom.
Yggdrasil – The Tree of Life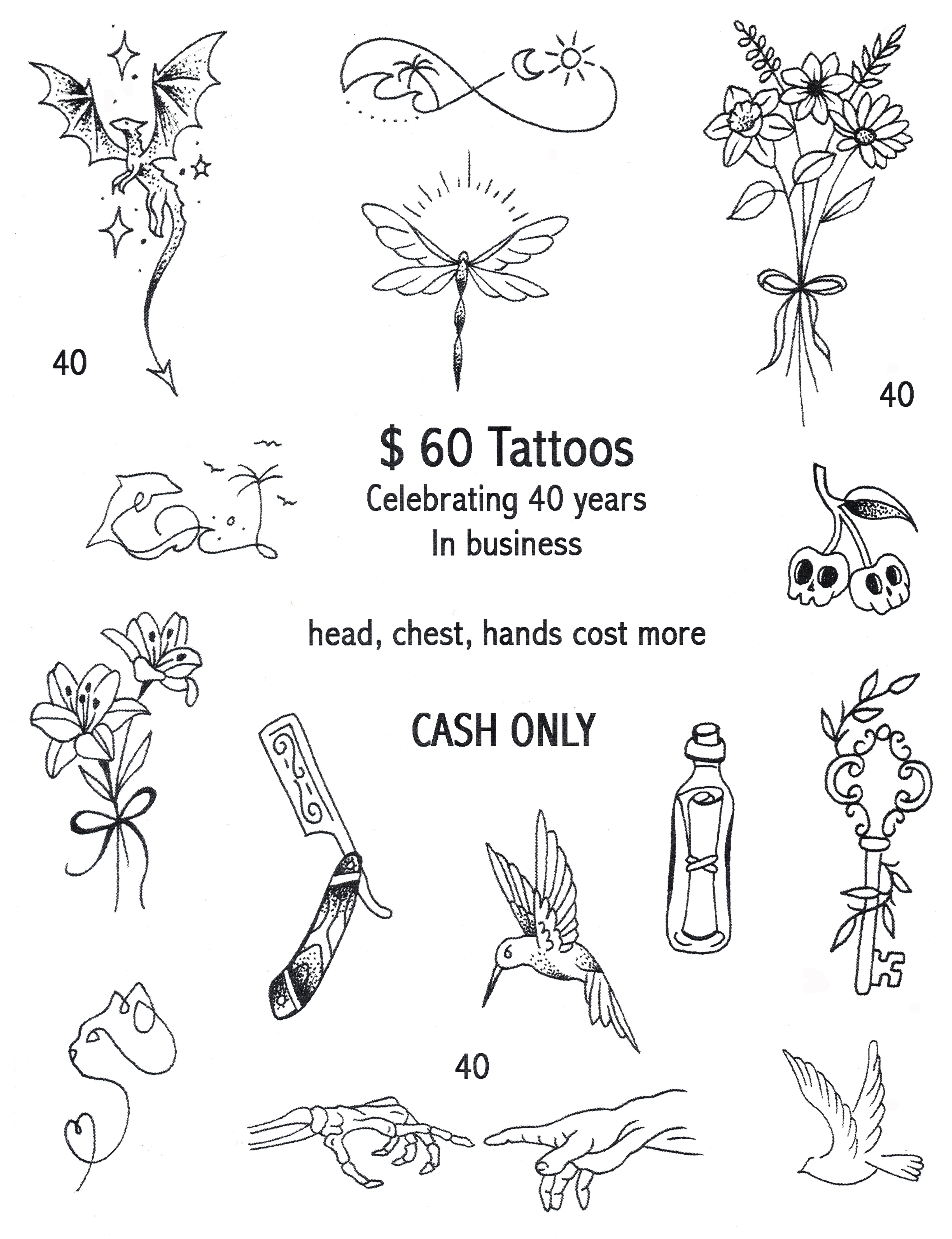 Yggdrasil is the TREE OF LIFE. In Norse mythology it is believed that Yggdrasil is a giant tree that connects the nine worlds and held them together.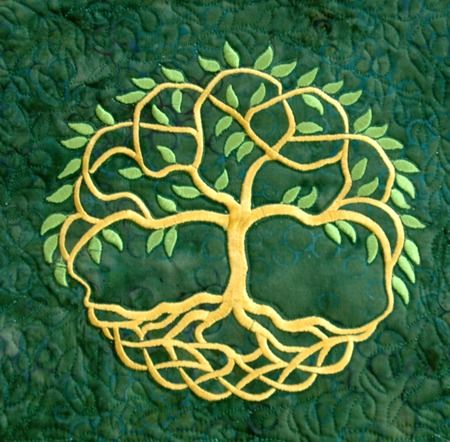 Its branches stretch out over all the nine worlds and extend up and above the heaven. Yggdrasil is also known as the frame of the universe and the spine of all existence because it holds the worlds together.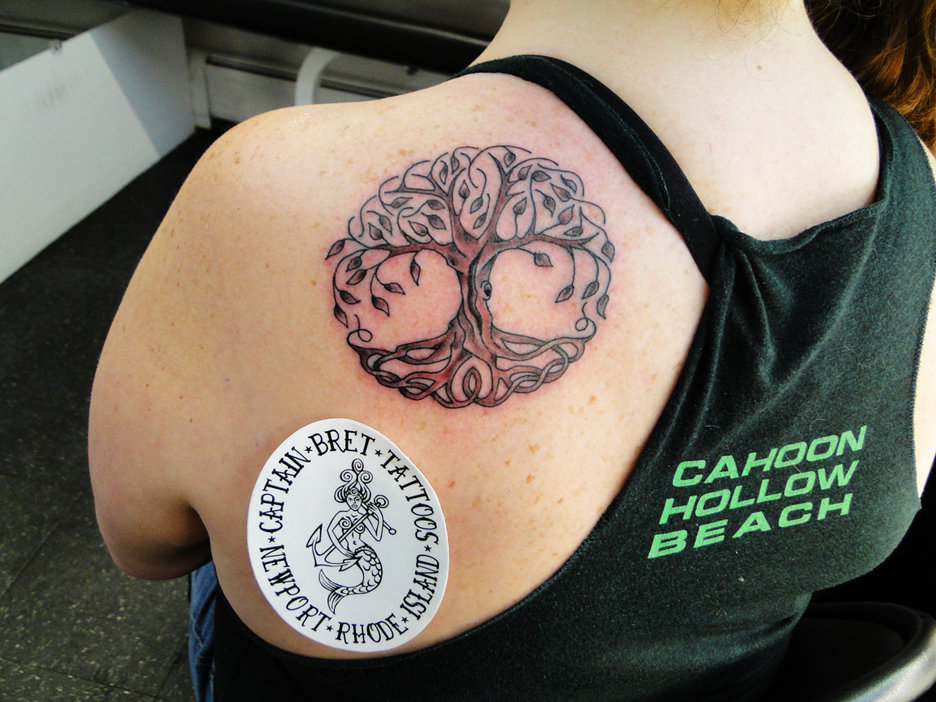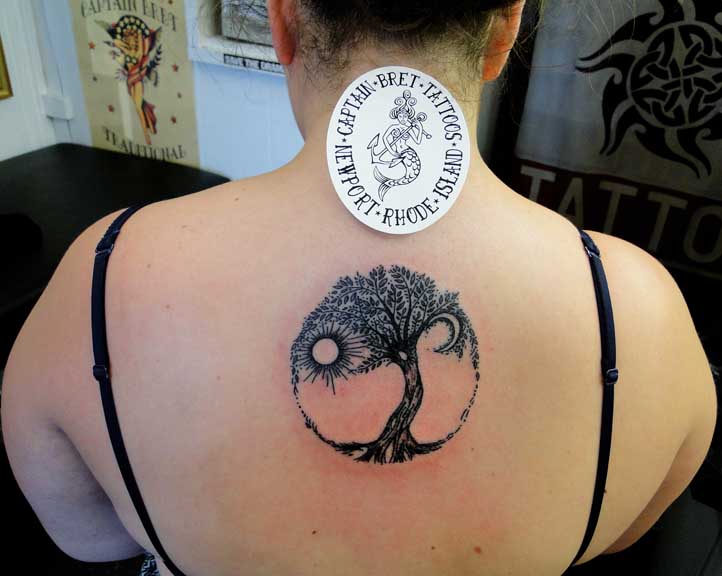 The center of the Vikings' cosmos is the ash tree Yggdrasil, growing out of the Well of Urd. Yggdrasil holds the Nine Worlds, home of gods, man and all spiritual beings. The gods live in Asgard and Vanaheim and humans inhabit Midgard. Giants live in Jotunheim, elves in Alfheim and dwarves in Svartalfheim. Another is the primordial world of ice, Niflheim, while Muspelheim is the world of fire. The last world comprises Hel, the land of the dead, ruled by the goddess Hel.
The Helm of Awe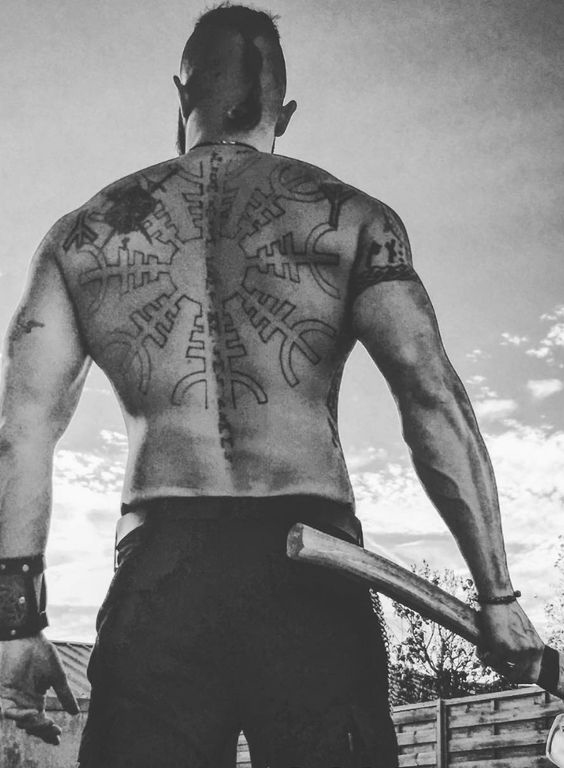 The term aegishjalmr means the helm of awe or terror. The symbol was used most often in magic to induce delusion or forgetfulness. A special form of magic called seior was used to create illusions or to prevent people seeing things as they really are.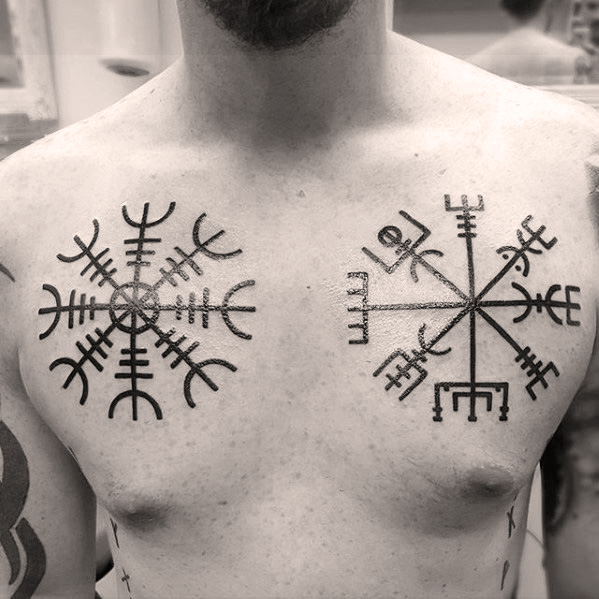 Thus, this symbol was used to hide someone from his or her pursuers.
Often Tattooed to win in battle by its power confusing the enemy
Vegvisir – The Viking Compass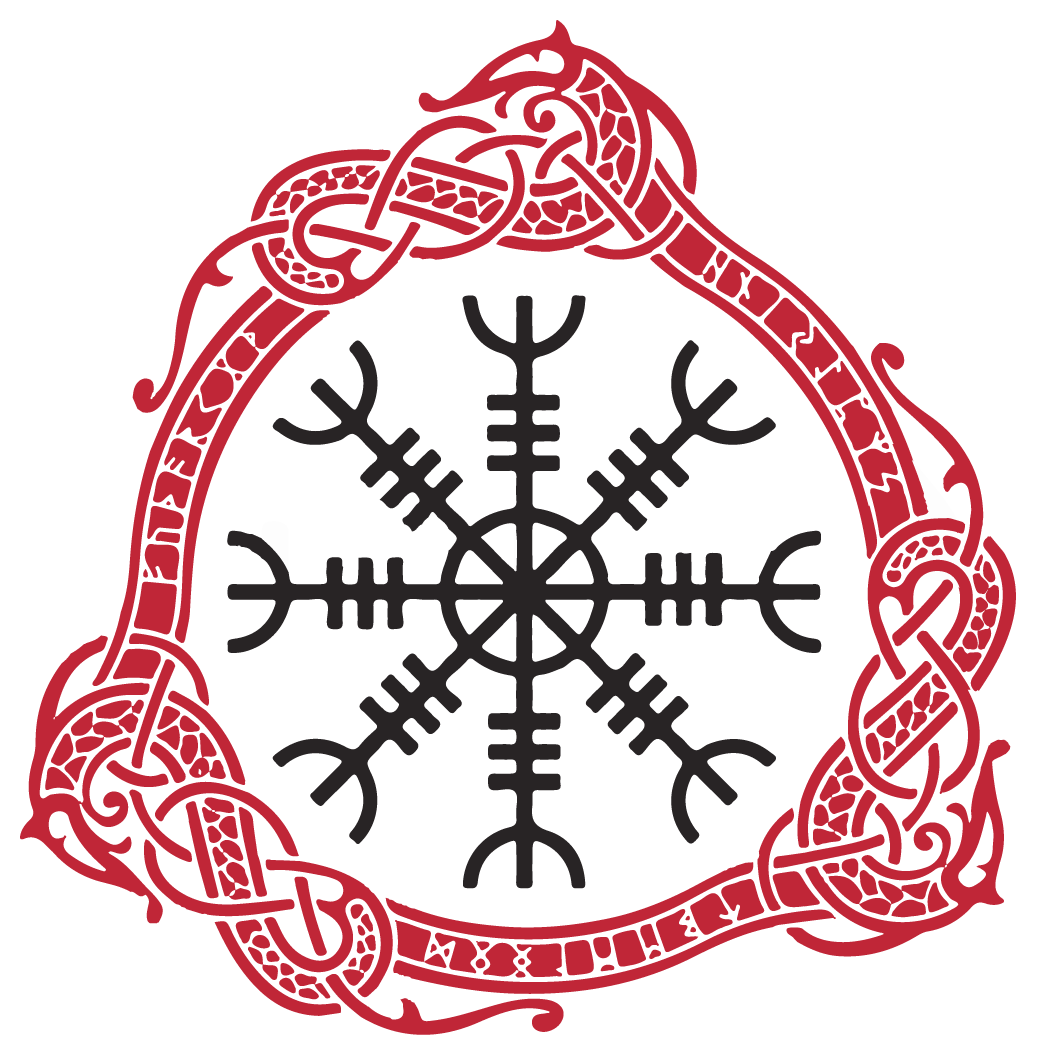 According to the Norse Mythology Vegvisir is a magic stave that helps the bearer to find his way through storm and bad weather. In Icelandic language Vegvisir means way finder.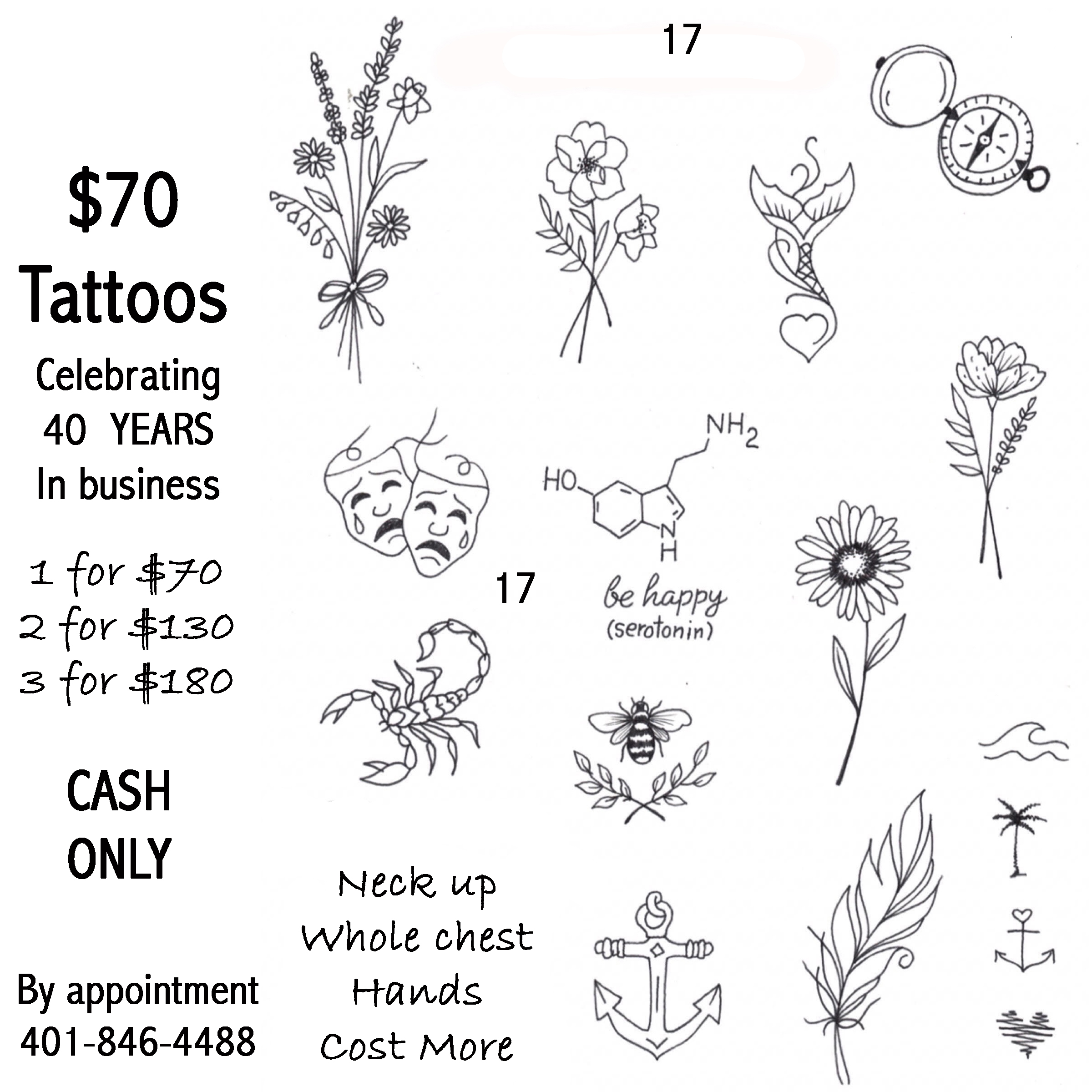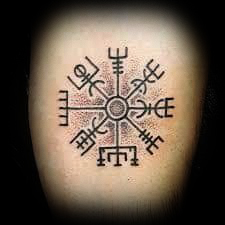 It is also known as Viking compass that is made of eight rune staves. It is the symbol of Protection and Guidance so people tattoo this symbol as a reminder not to loose their path in life.
Mjölnir – The Hammer of Thor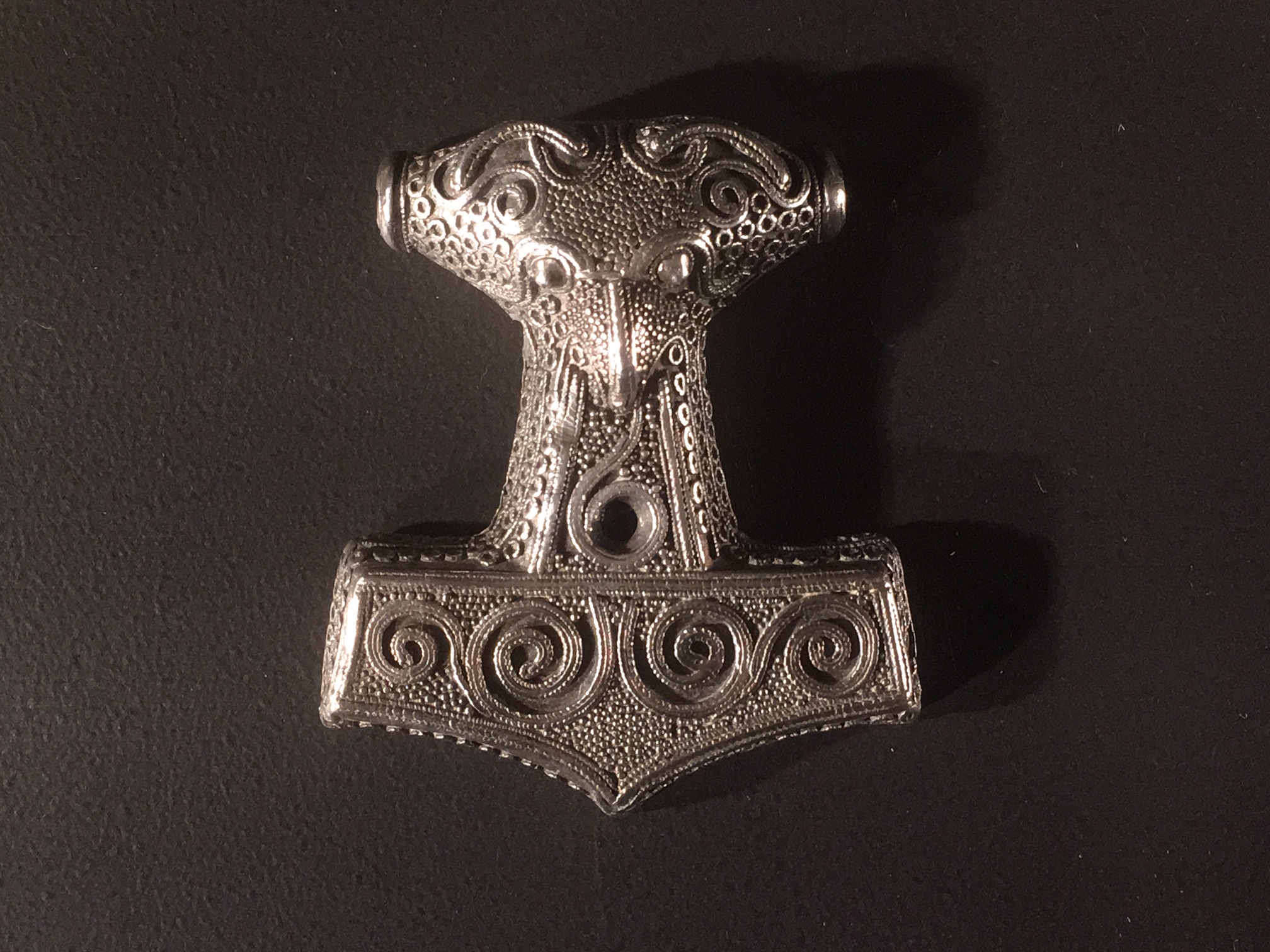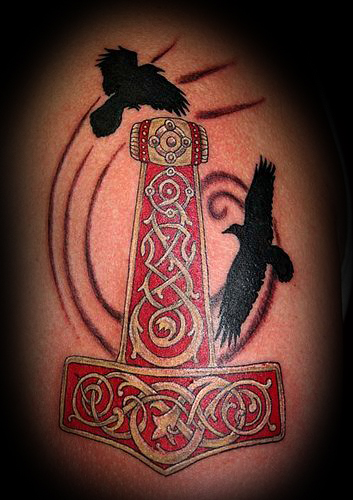 In Norse mythology Mjölnir is Thor's magical
hammer.
Thor is the god of thunder, lightning and storms.
He is also the protector of the mankind and also
the god of war.
People believe carrying symbol of Thor's hammer
provides protection, strength and power to its bearer.
Huginn and Muninn
The Twin Ravens of Odin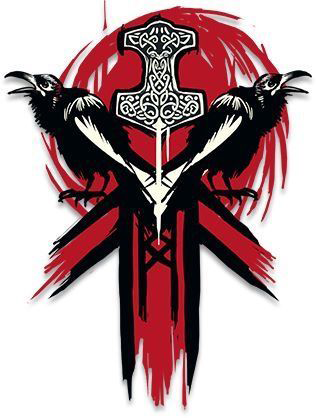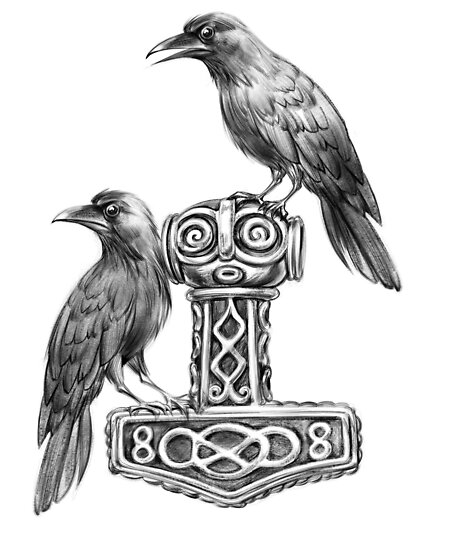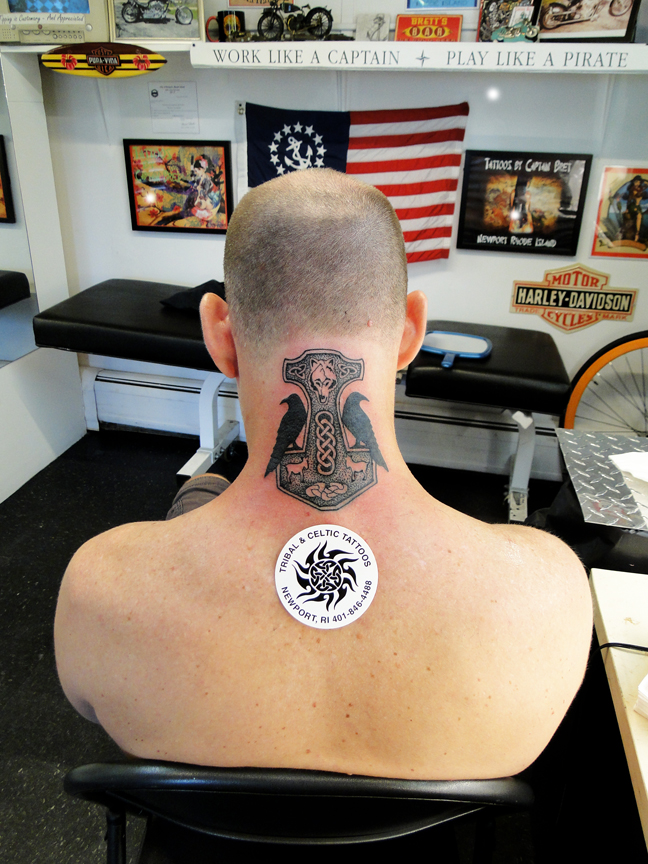 Odin's ravens Huginn and Muninn used to fly all over the
world and bring information to him. . Huginn is thought
and Muninn is memory. People believe these ravens are
the projections of Odin's consciousness.
The Web of Wyrd – The Matrix of Fate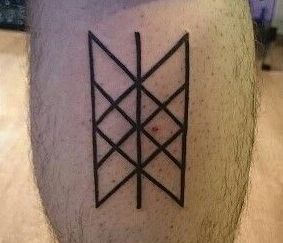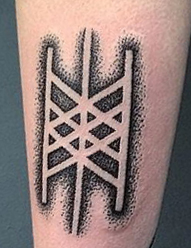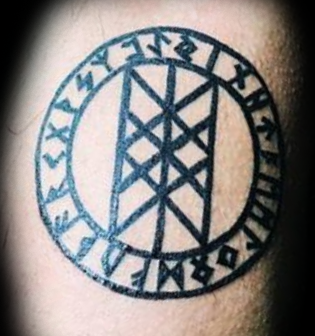 Web of Wyrd (Skuld's Net)- The web of Wyrd serves as a reminder that the actions of the past affect the present and that present actions affect the future.
The web of wyrd also known as Skuld's net is the Norse matrix of fate. This net was supposedly woven by the Norns. The Norns were the Shapers of Destiny (or the fates) in the Viking mythology. The emblem is consist of nine staves arranged in an angular grid, contains all of the shapes of the runes and represents all the possibilities of the past, present, and future. The web of wyrd is a reminder that the actions of the past influence the present and the present actions affect the future; all timelines are inextricably interconnected.
BERSERKER
Berserkers were a special group of elite Viking warriors who went into battle without traditional armor. Instead, they wore animal pelts, typically from bears or wolves. The word "berserker" derives from the Old Norse "serkr," meaning "coat" or "shirt," and "ber," the Norse word for "bear."
Also, they were butt-ass naked under the pelt. At least according to legend.
The Berserkers were a cult of warriors who worshipped Odin and who, under the influence of drugs, mead and mushrooms, possessed an uncontrollable fury. It should also be noted that these fierce fighters also praised God Tyre and that they would even be the result of its creation.
They were dressed in bearskin to frighten the little people who feared wild animals and howled by hitting their own shields.
These fierce warriors were apparently insensitive to pain until their madness disappeared. In their rage, they even attacked the rocks and trees of the forest, and it was common for them to kill each other
Prehistoric Viking stone carving Art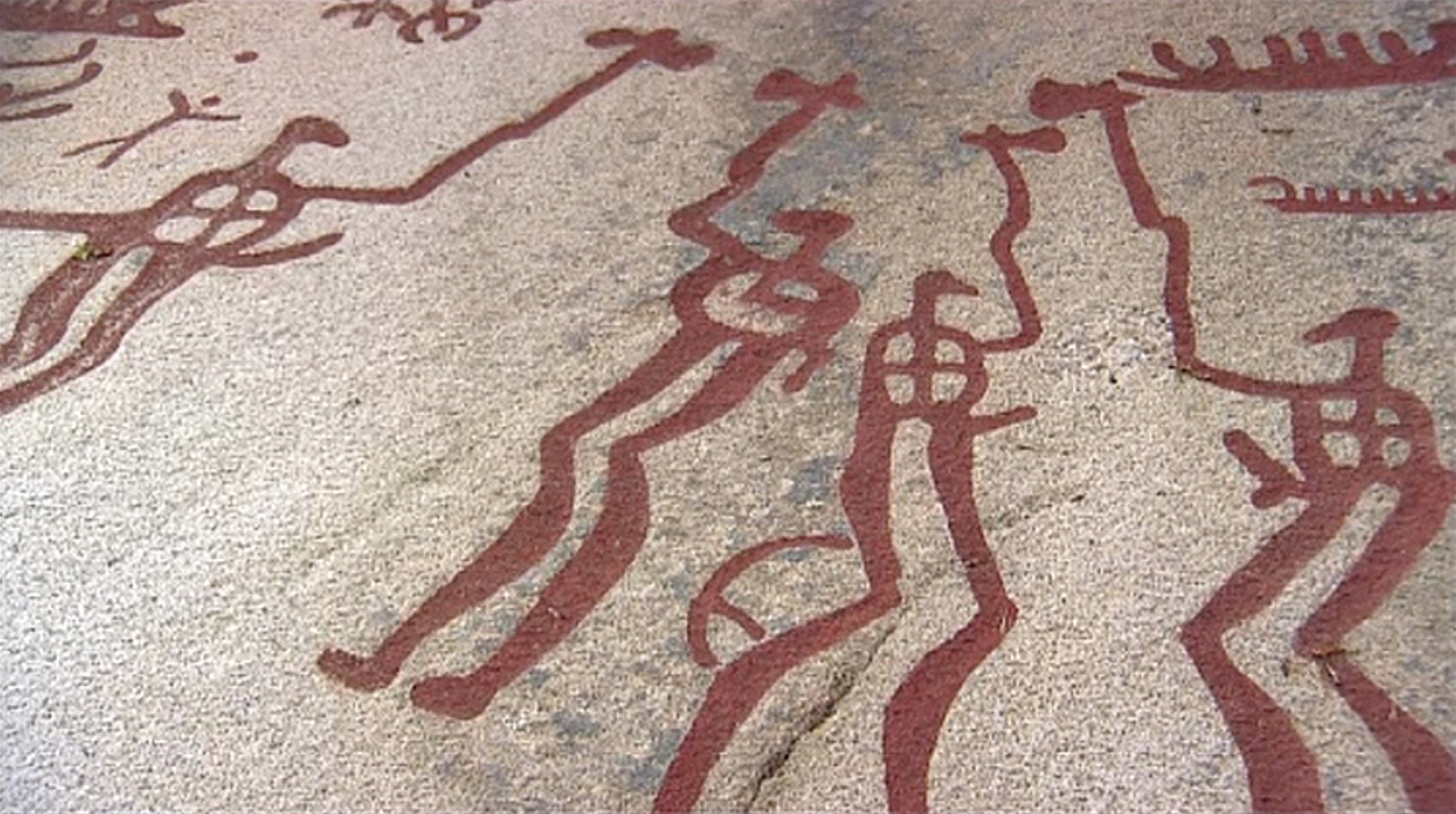 My interpretation is that they really got Hard while they fight !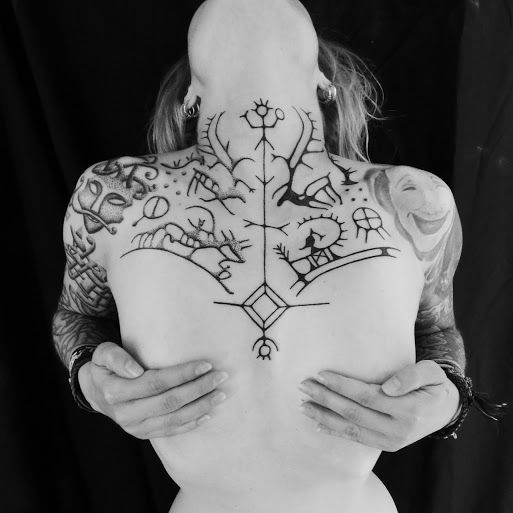 Iron Age Viking stone carving art. Rune Stones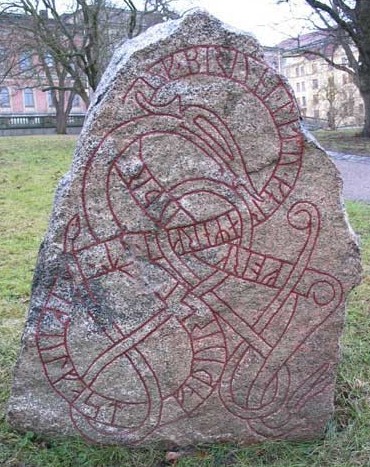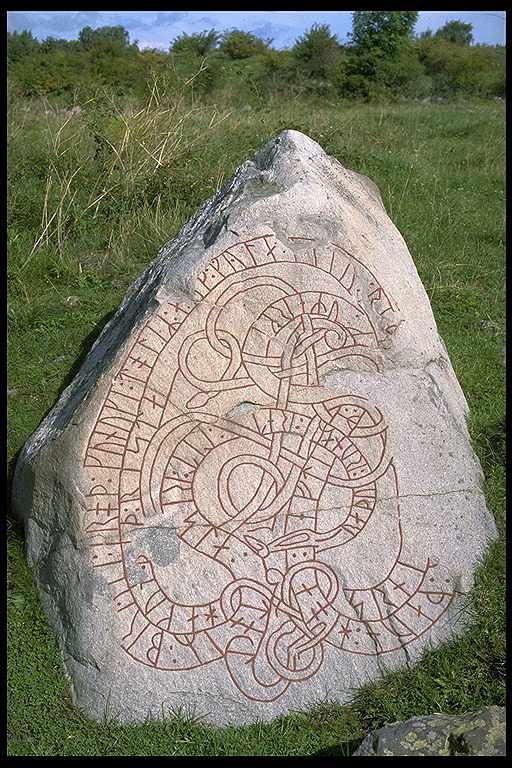 One can assume from the ancient stone carvings the Vikings left that the Tattoos they may have worn could be close to the style of there carvings in stone
Most of the Vikings symbols we know about
were carved on rune stones, swords, axes
and other items precious to the Norse
people.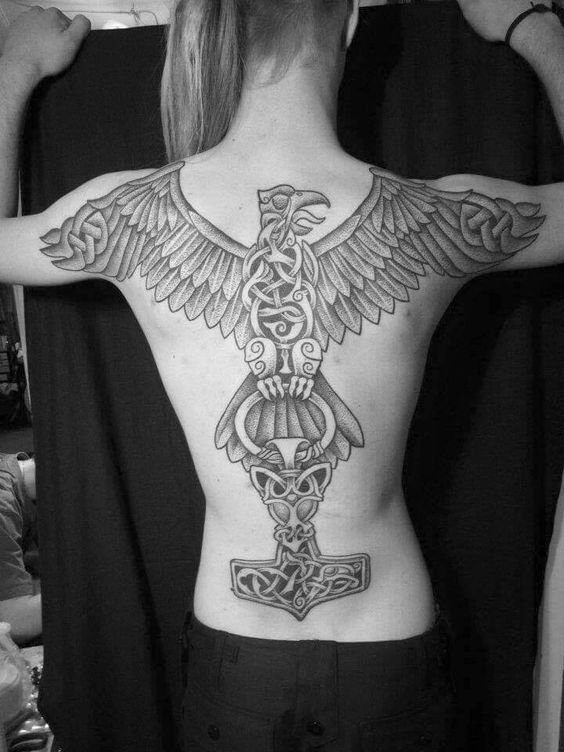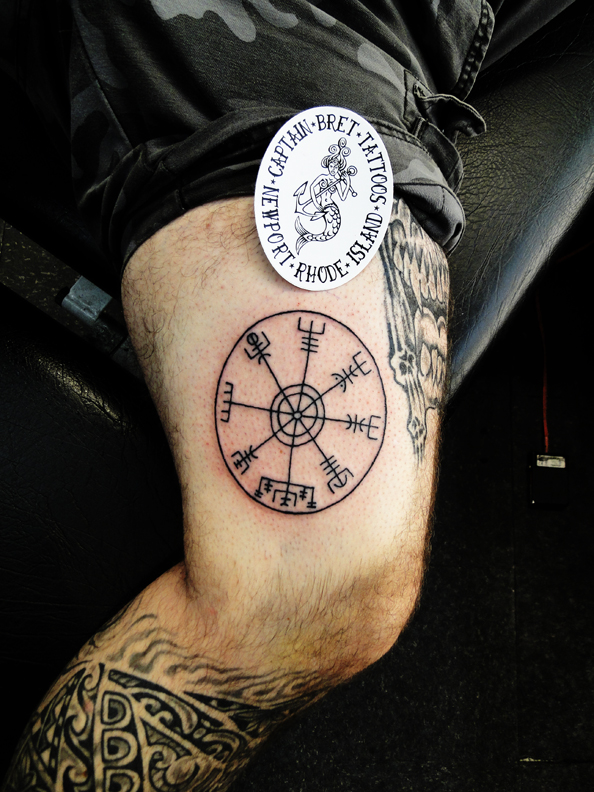 Tattoos by Captain Bret & Celtic Tattoo
ALL styles of Tattooing.
For many years we have Tattooed our clients with
amazing Celtic Tattoos.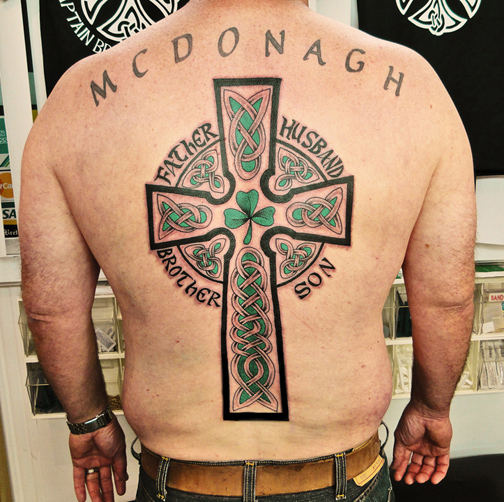 Our experience with Celtic Tattoos enable us to now offer
Viking historic Tattoos to our clients.
Viking Tattoos Are gaining in popularity worldwide.
Herein are ideas and images for Viking Tattoos that we have collected from the internet that other great artists have created.
Maybe you will get an idea from these powerful images and consult us to custom design a Viking Tattoo for you.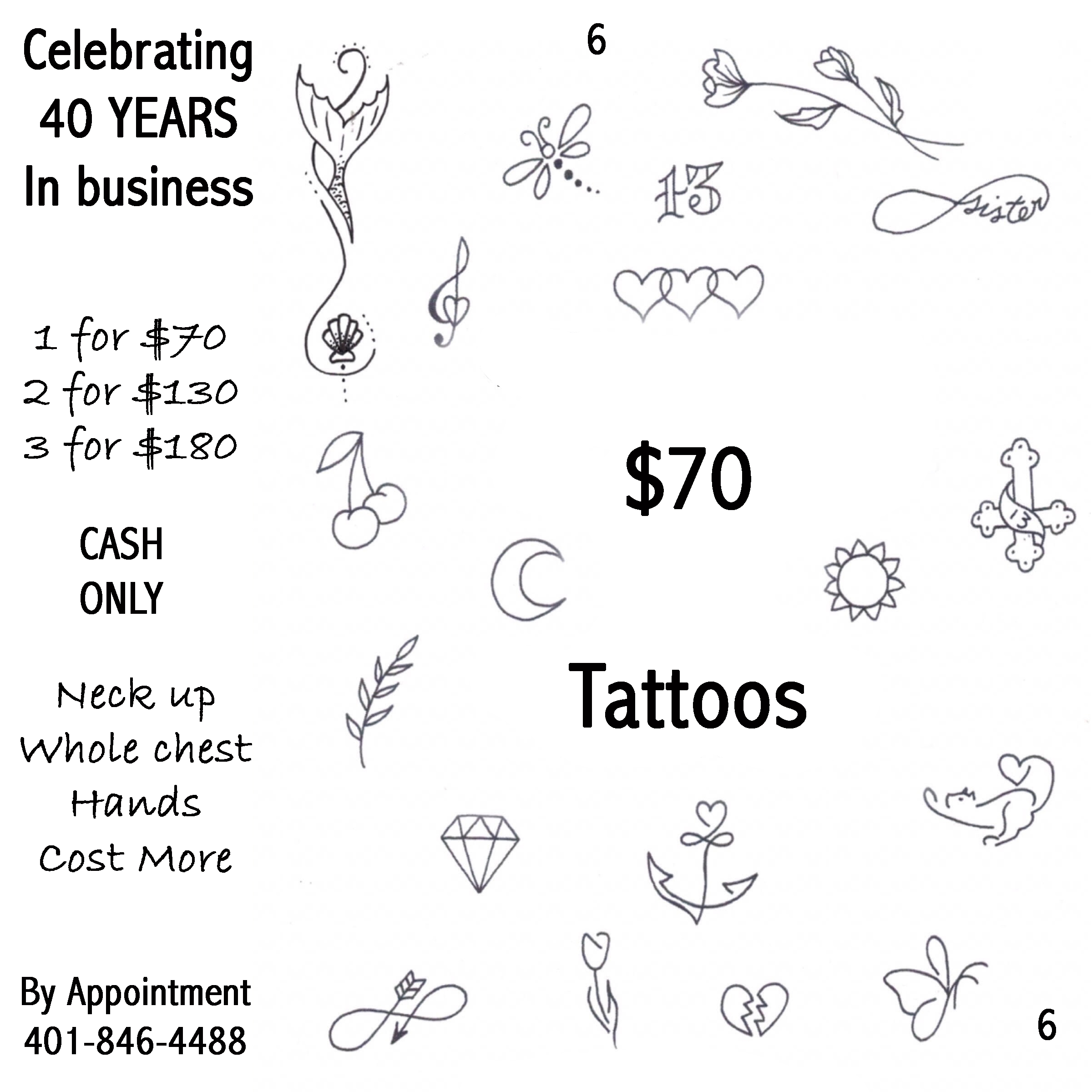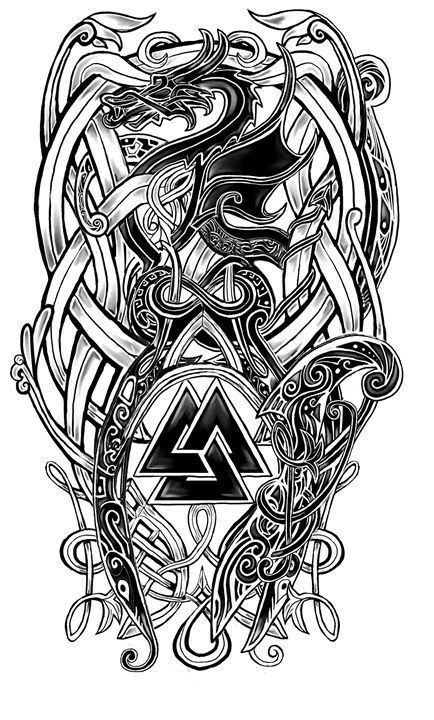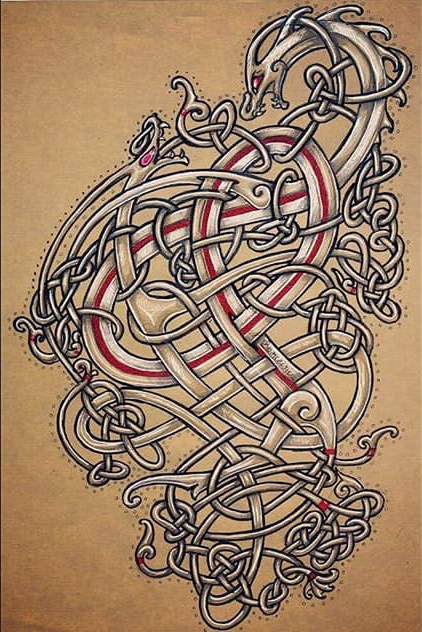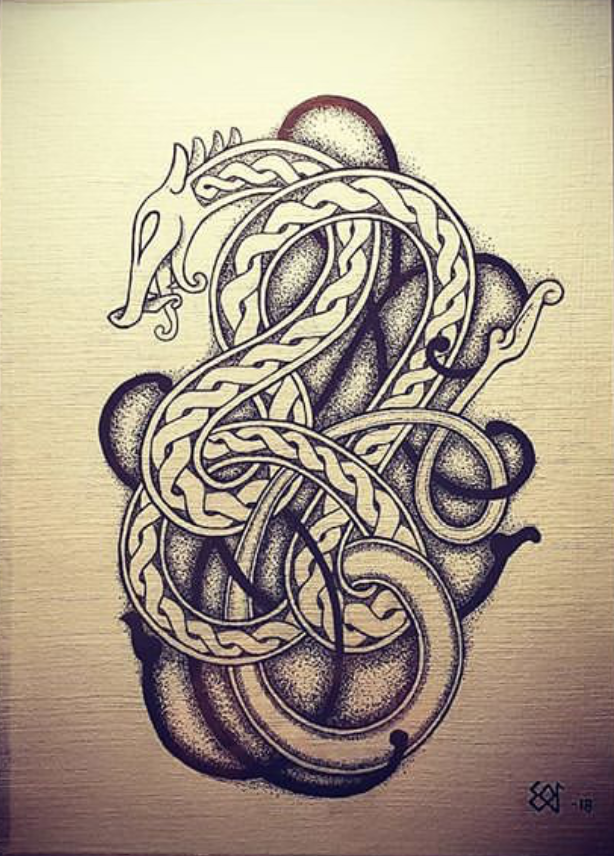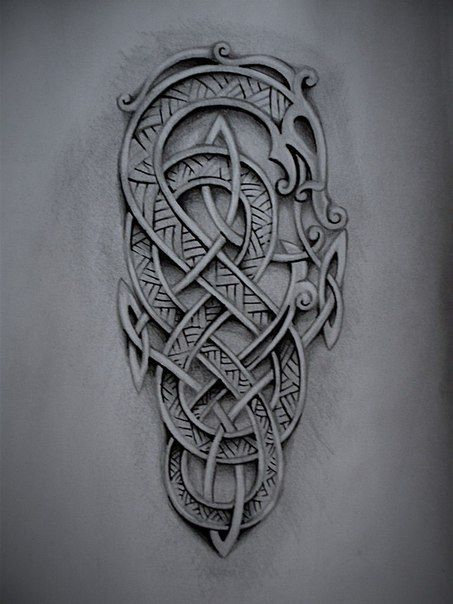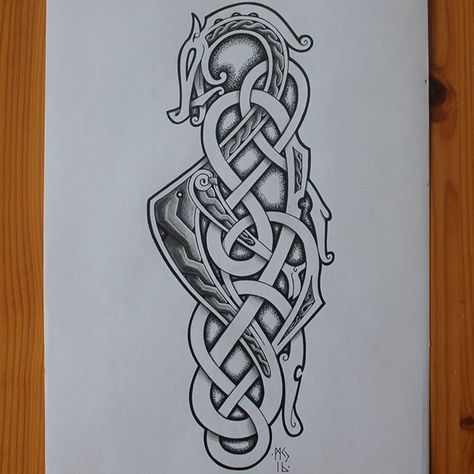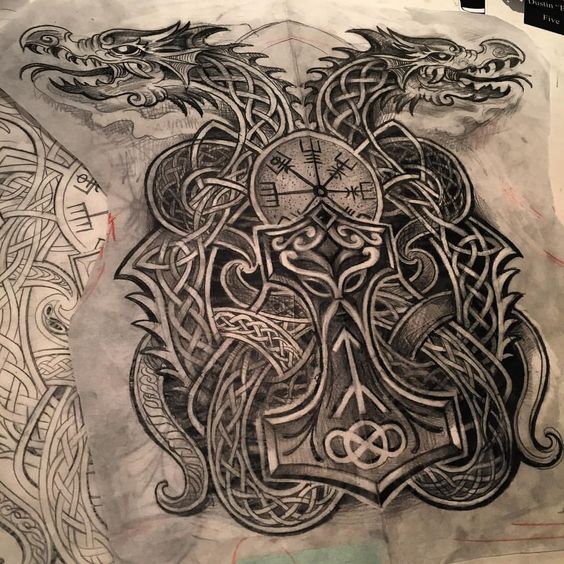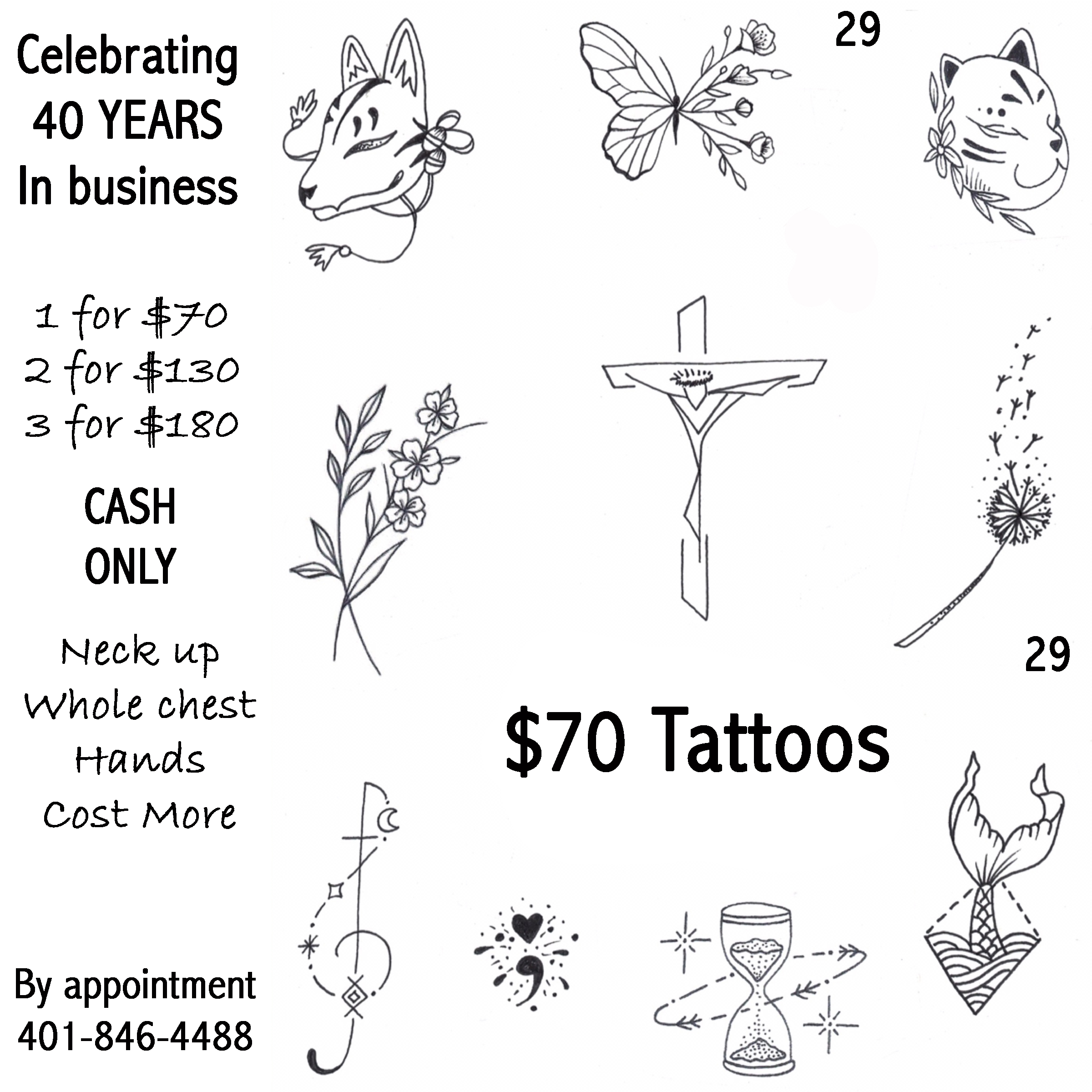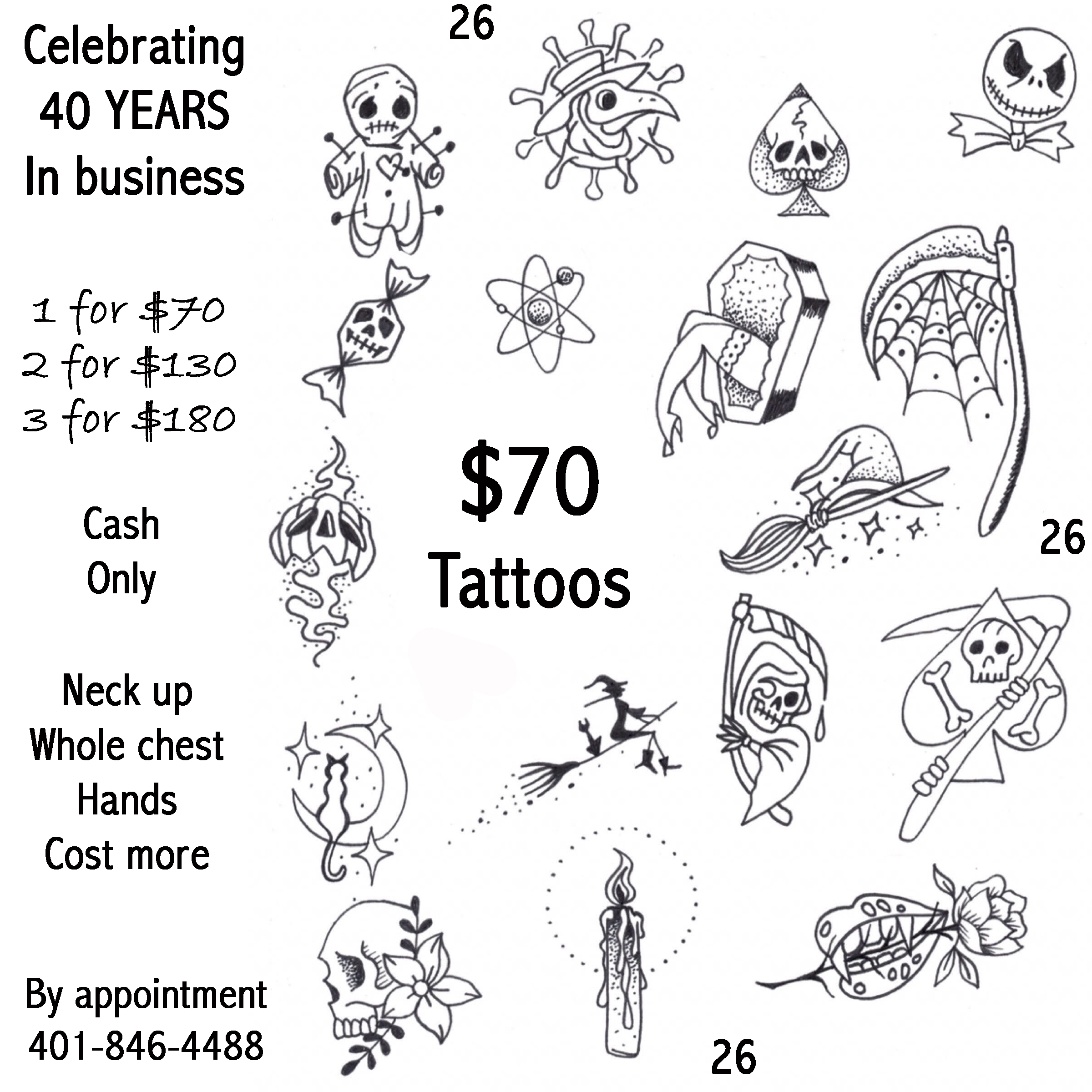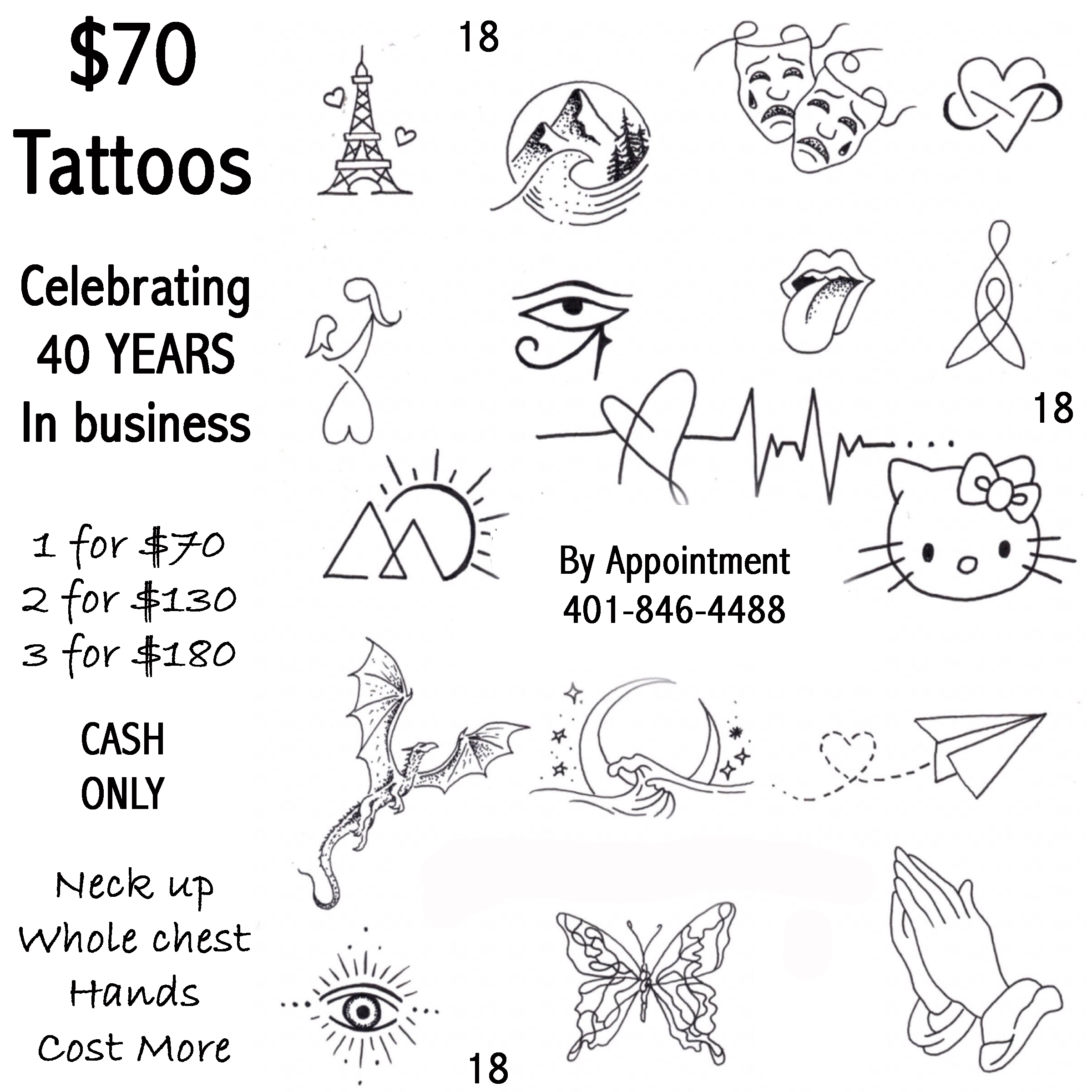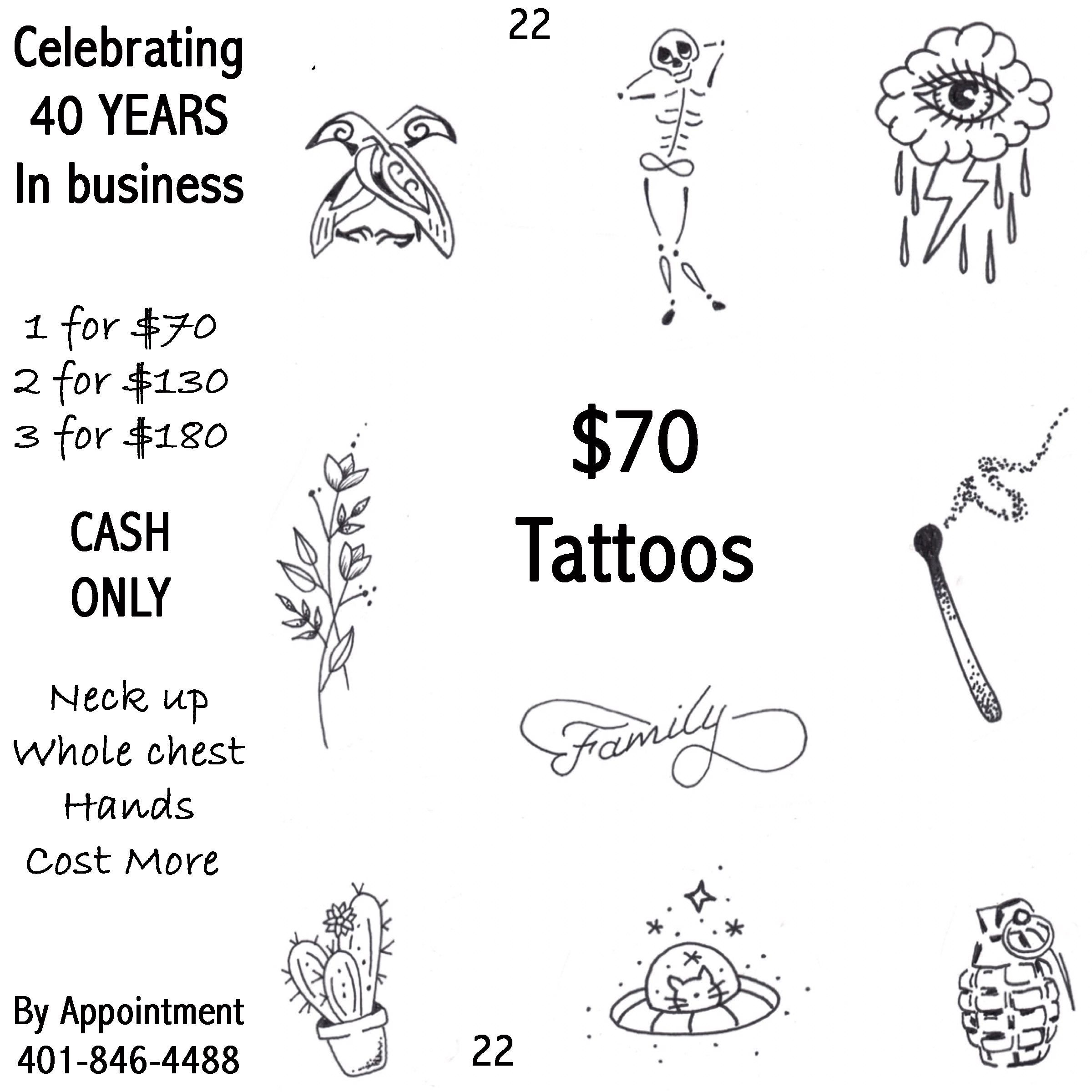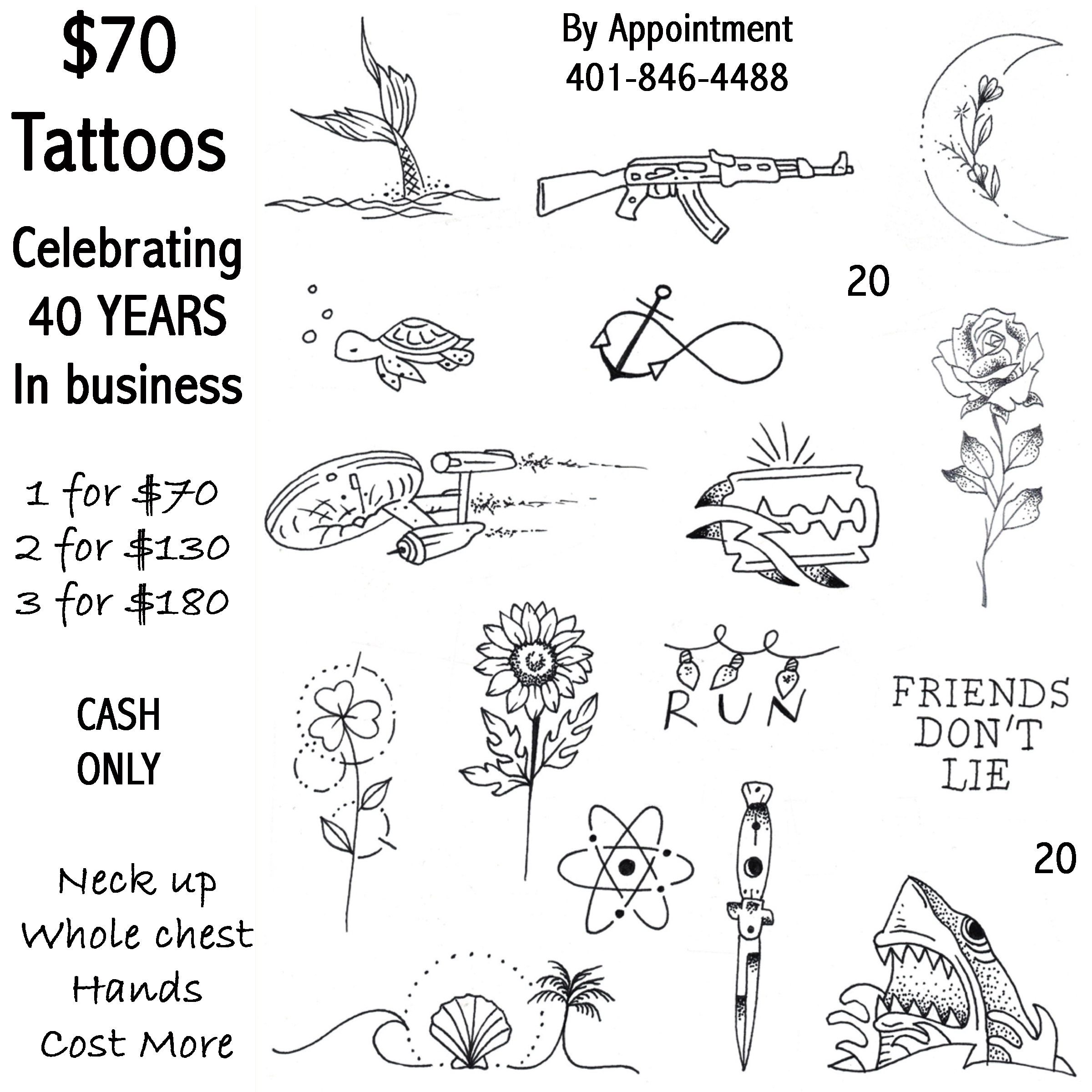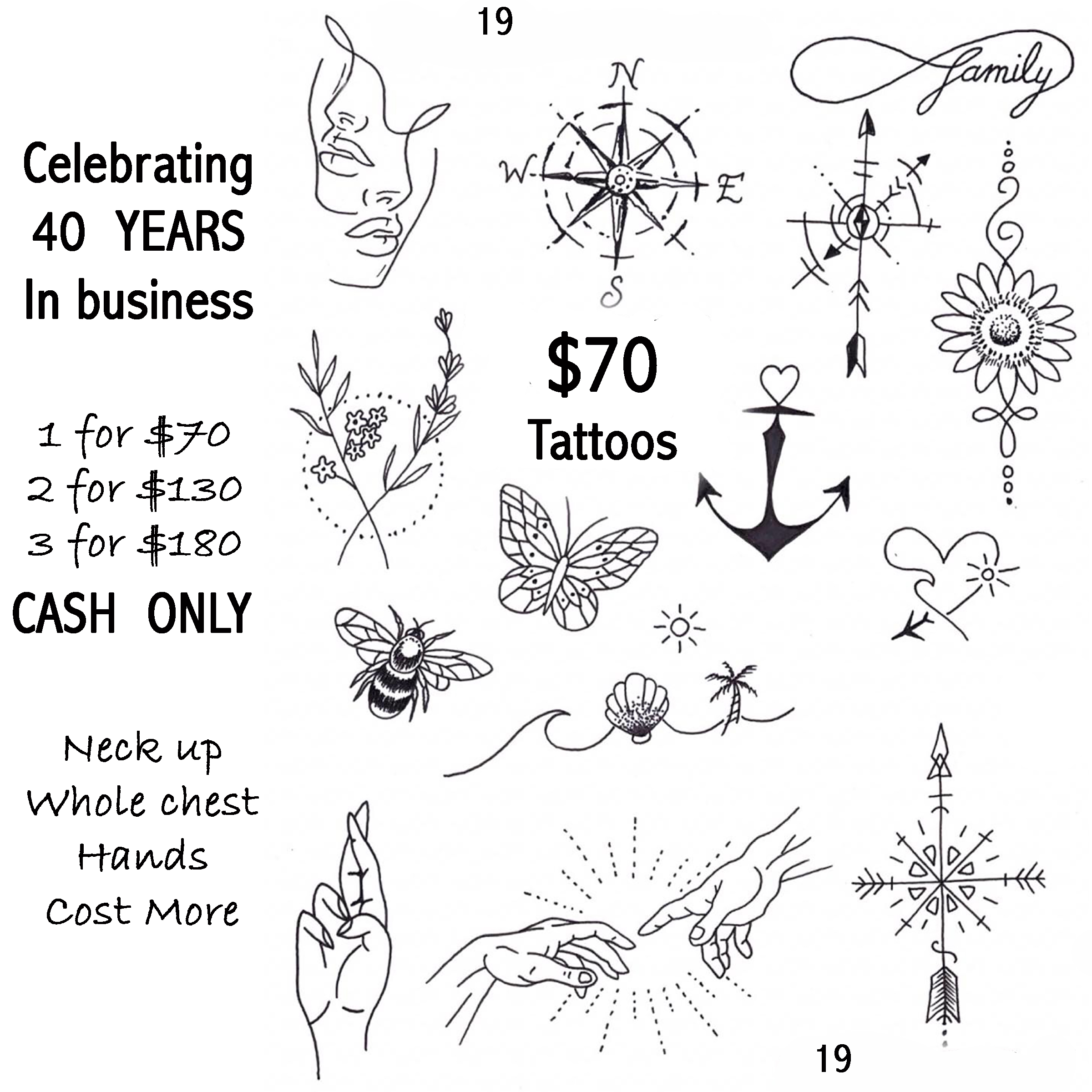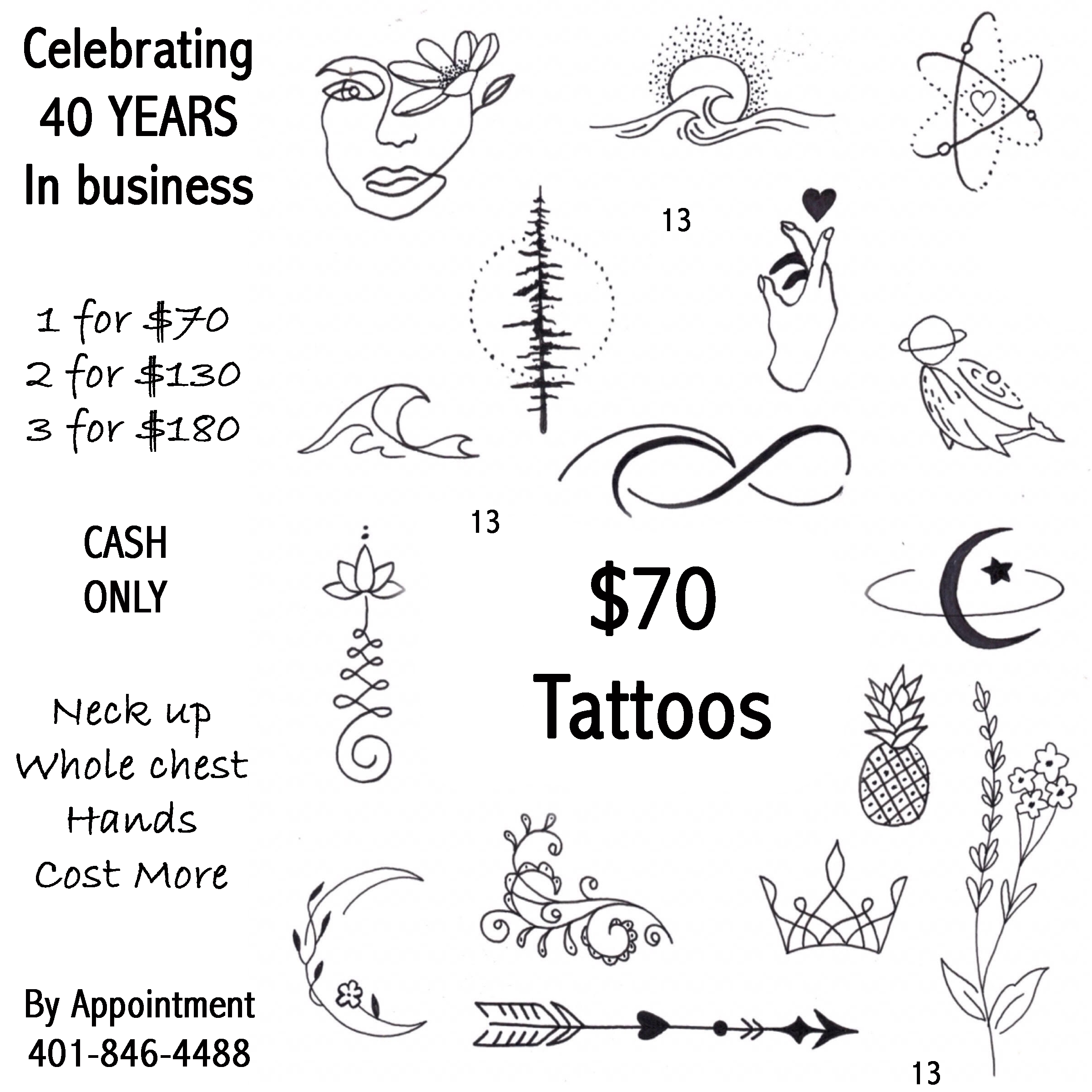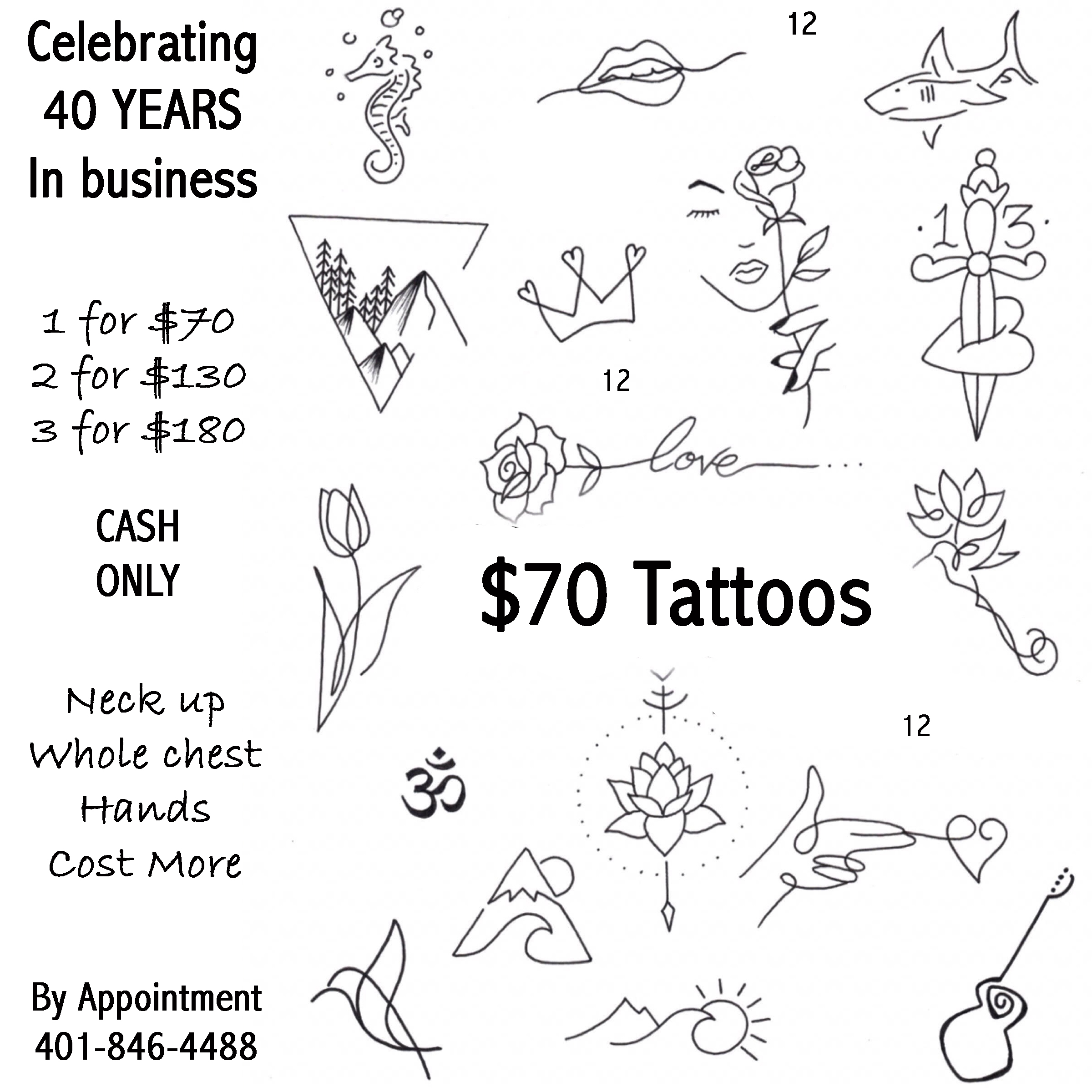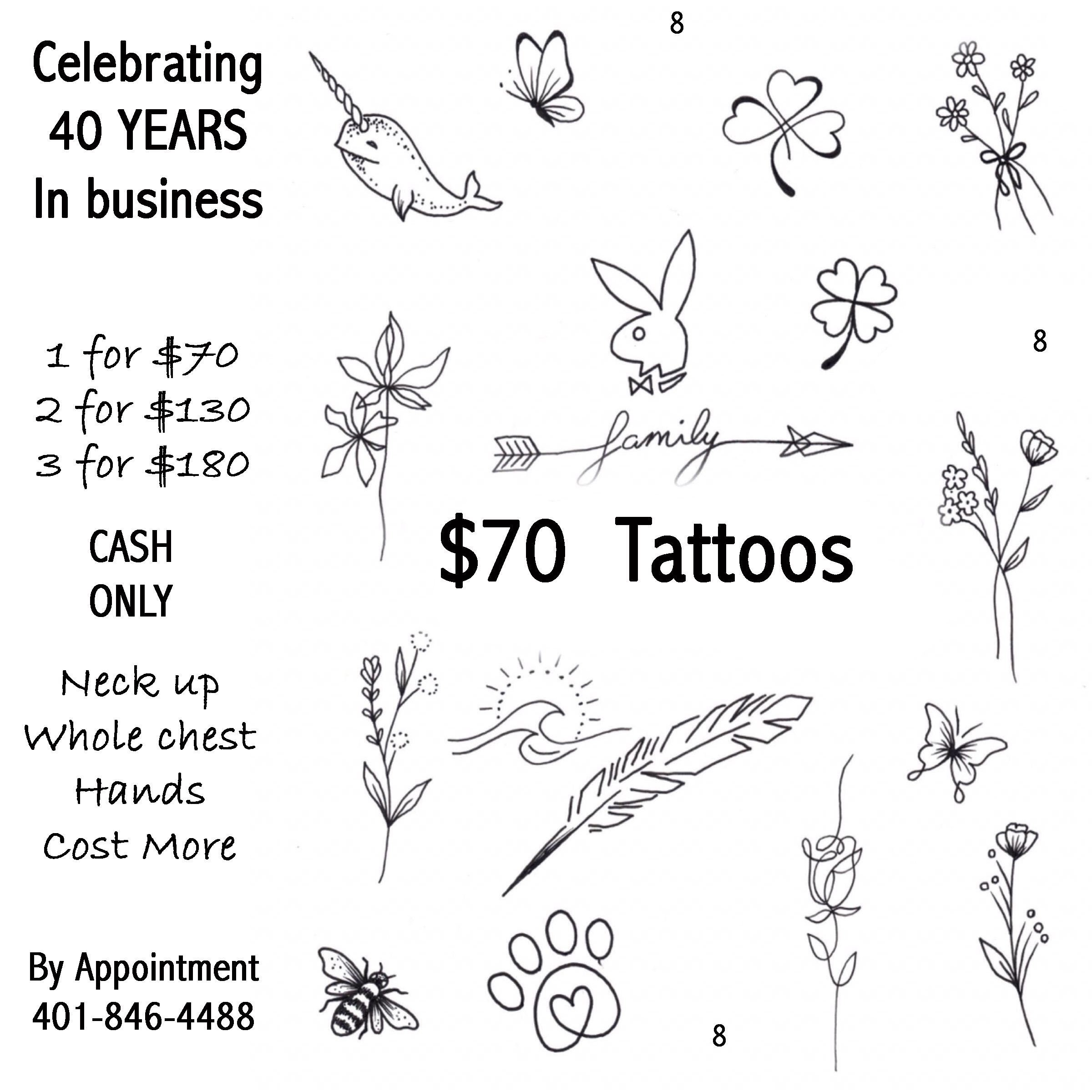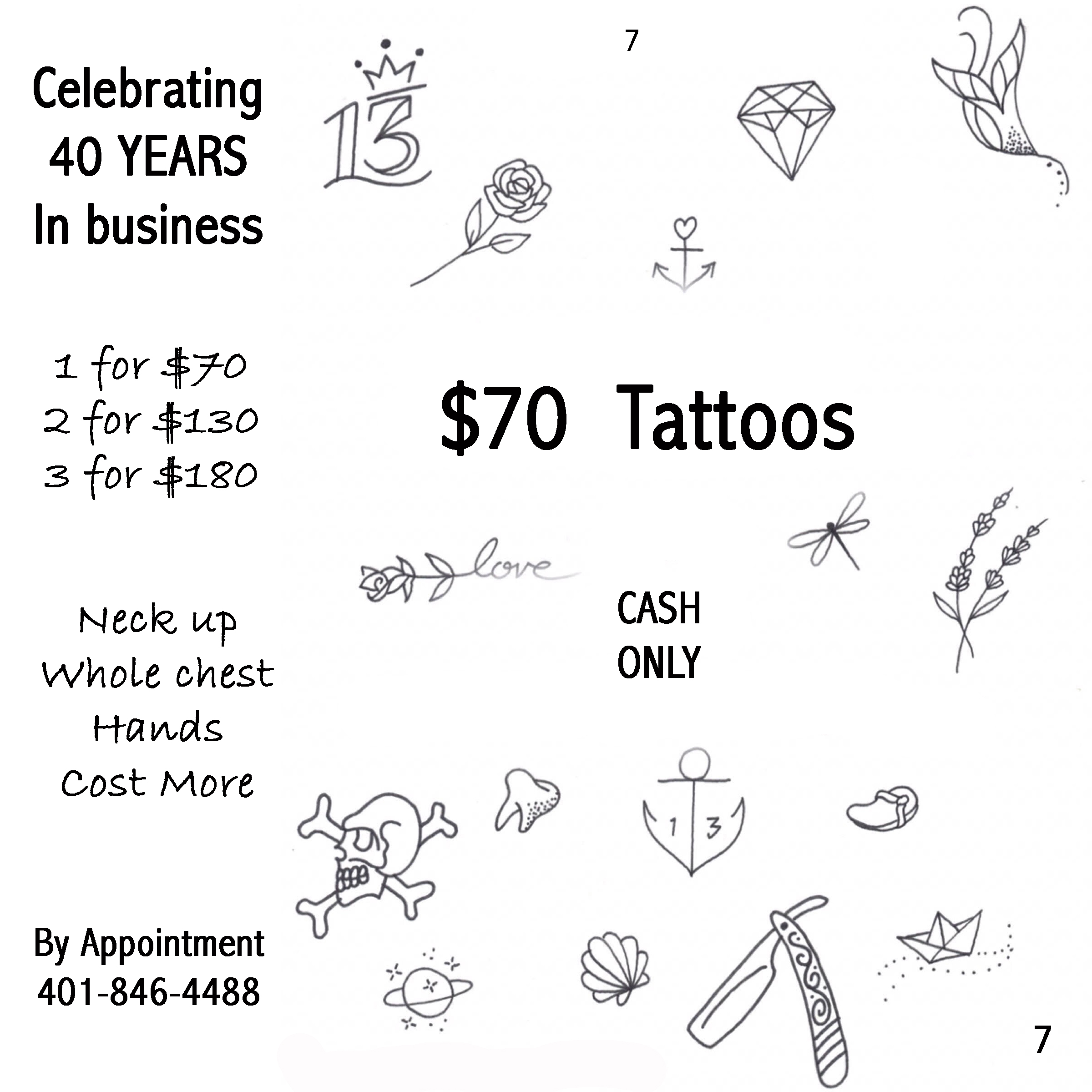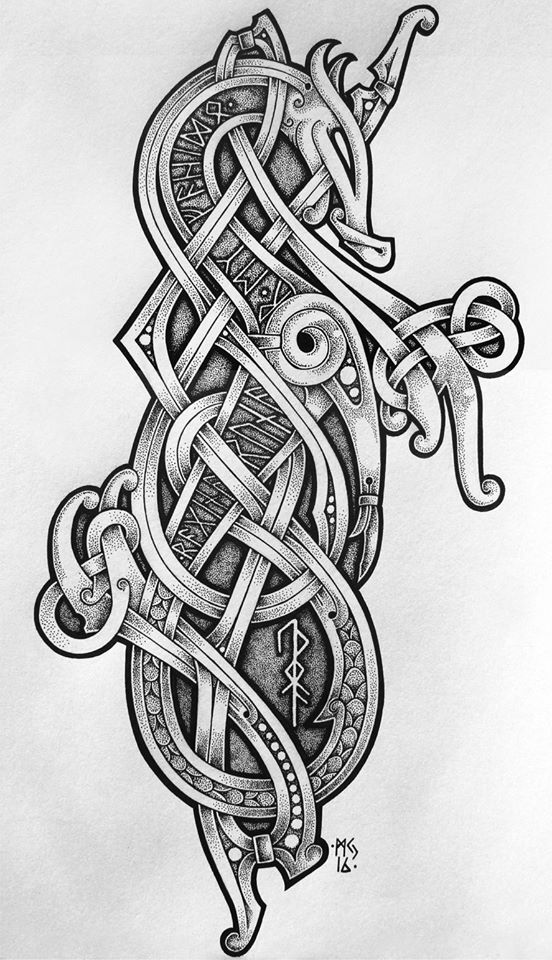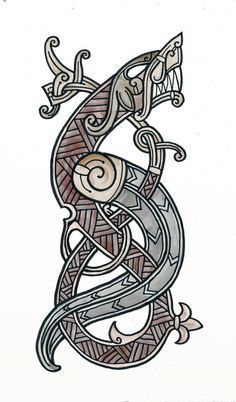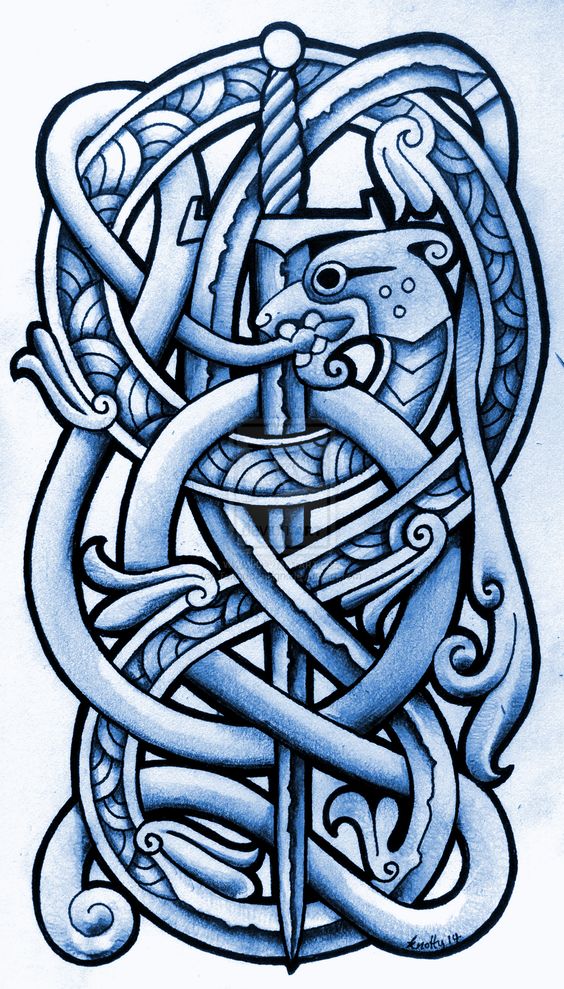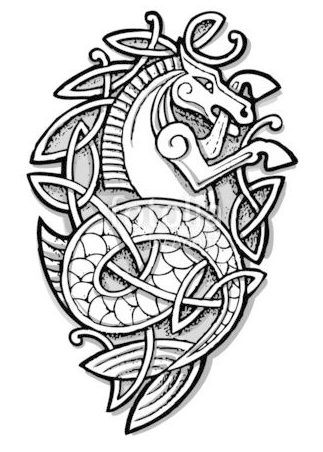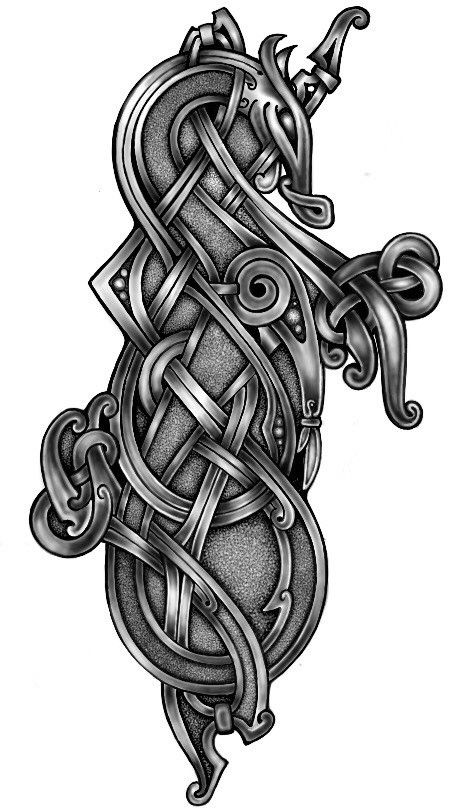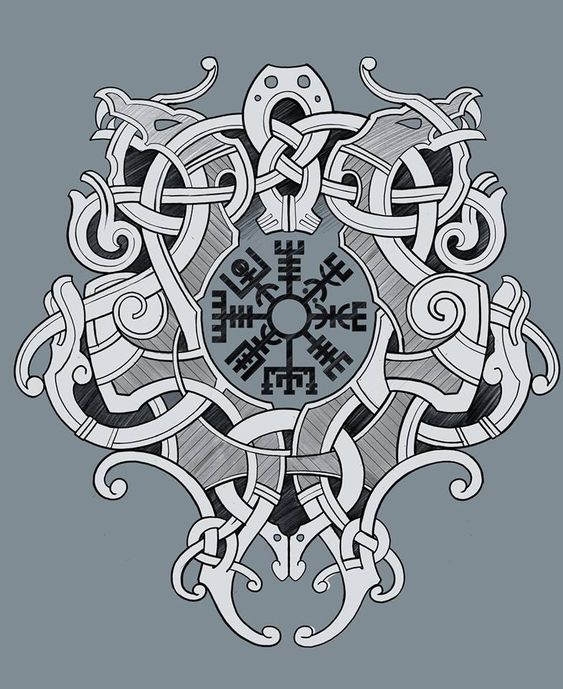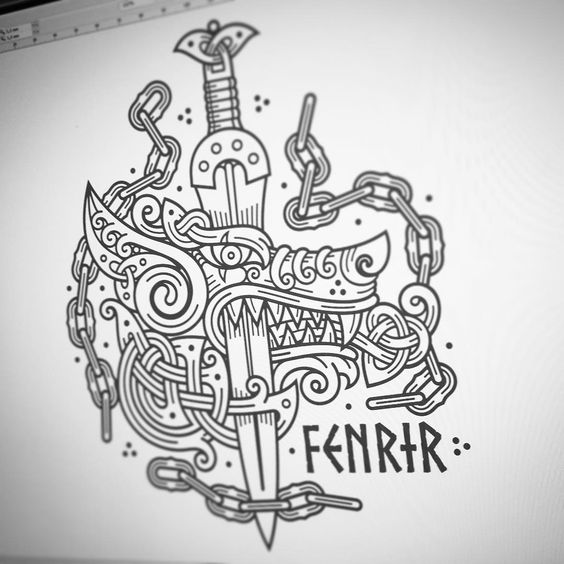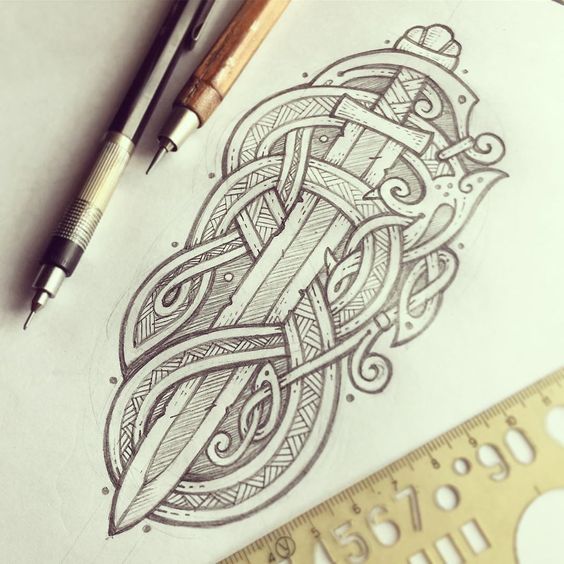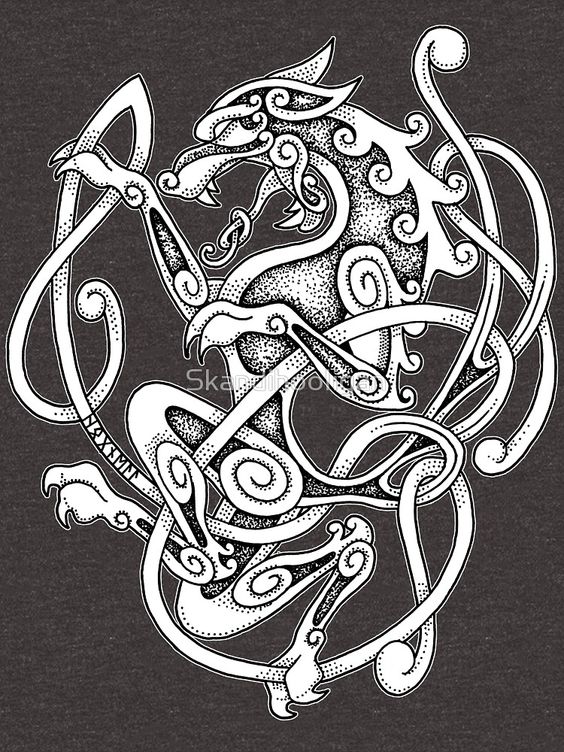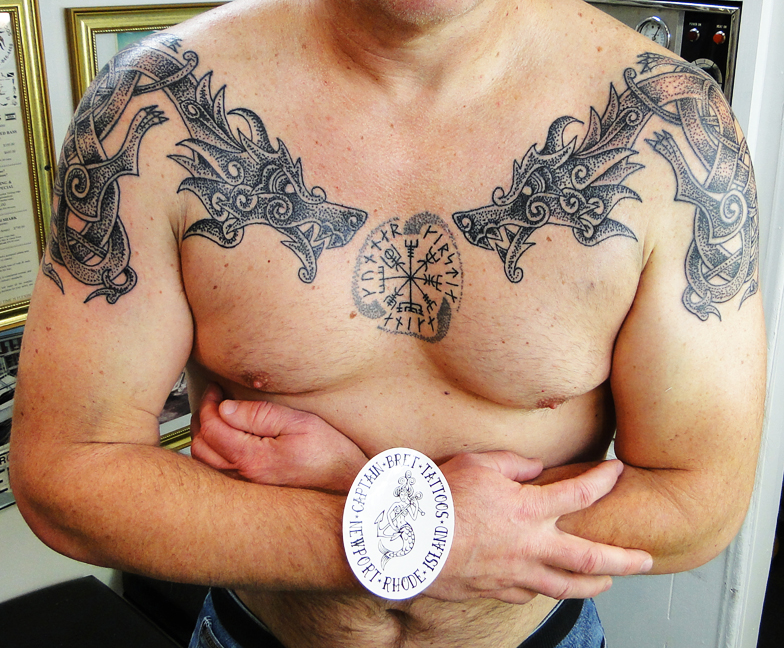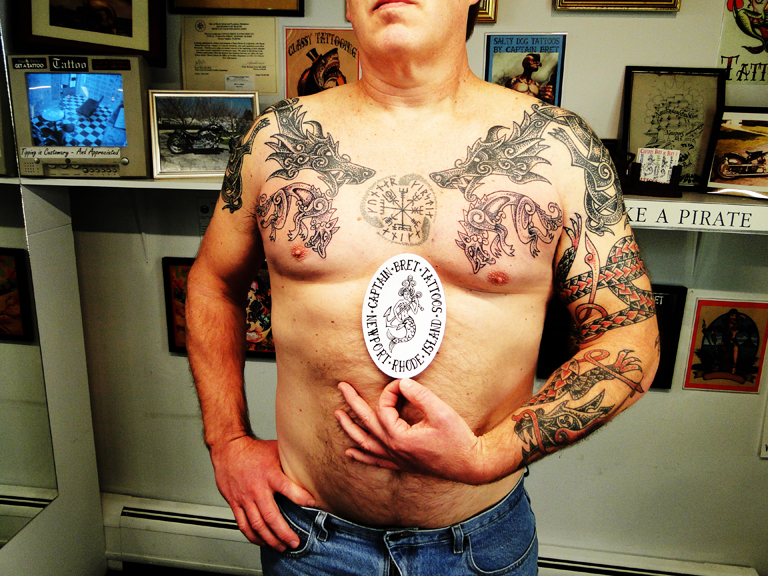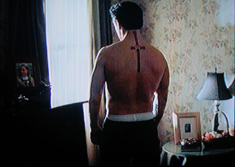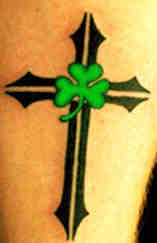 Mystic River Tattoo
Sean Penn's Back Tattoo
Tattoo that Captain Bret Designed that was used in Clint Eastwood's movie "MYSTIC RIVER" staring Sean Penn as the character "Jimmy Markum" a South Boston Irish mobster with this Celtic styled cross Tattooed on his back
We bury our sins, we wash them clean.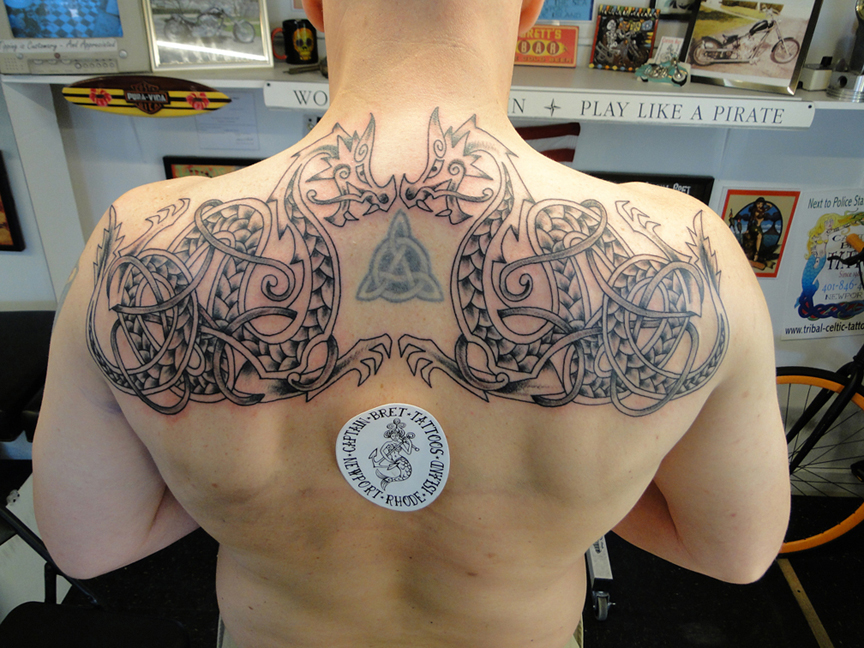 Viking- Nordic-Norse -Scandinavian styled Dragons. A Custom Tattoo by Captain Bret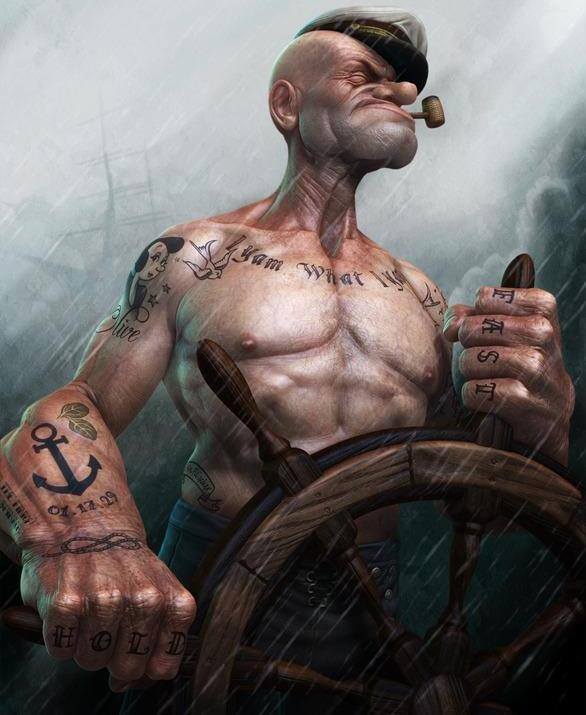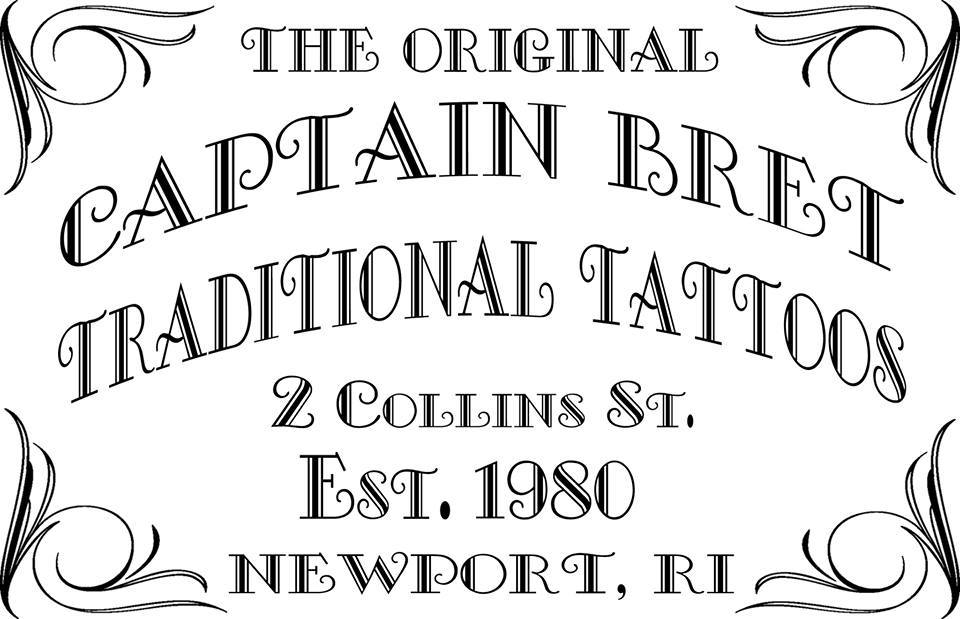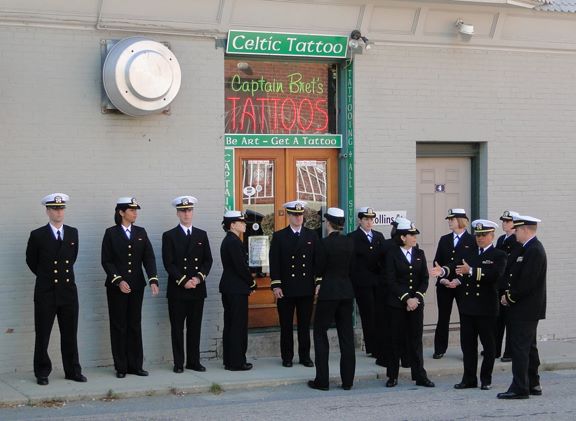 Get in line for a Tattoo by Captain Bret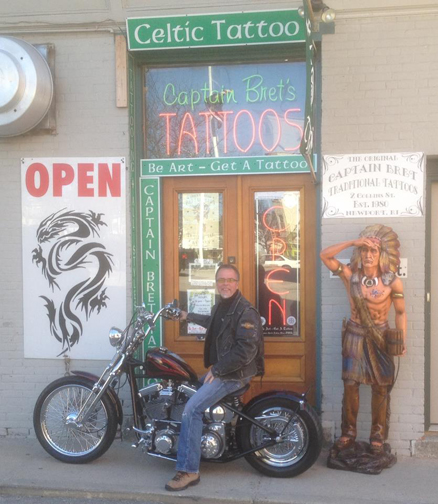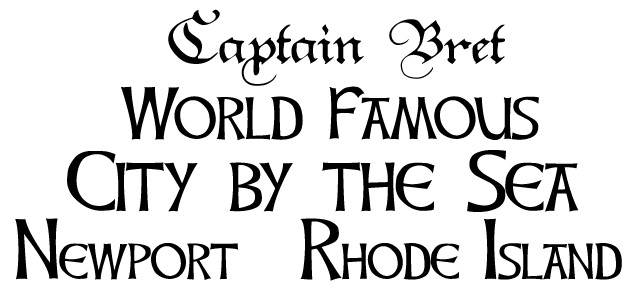 Celtic Tattoo Portfolio
Custom & Traditional Tattoo Portfolio

LINKS



A Cultural History of the Modern Tattoo Community
Body Parts (Or Modern Mutations)
Pictures of Tattoo Shop & All our Tattoo Designs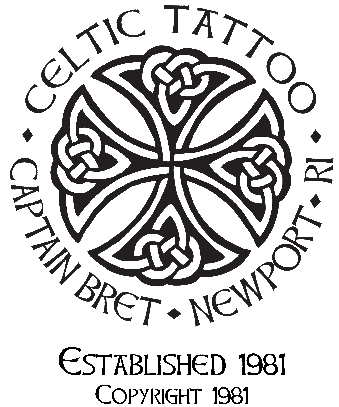 These designs, pictures, Photographs, JPG,s,Gifs, files, logos, Tattoos, images, content are used exclusively by Captain Bret's Tattoo Shop Inc. and represents our company, they are our intellectual property © 1981 All rights reserved.
All Tattoos By Artist Captain Bret A. Lohnes ©1980
NO commercial or non-commercial reproductions allowed or tolerated without valid license from Captain Bret's Tattoo Shop Inc.
All designs and images/content/compilation herein are Copyright 1981. Trade Mark-Service Mark protections exist. Said Copyright, Copyrights, Service Marks, Trade Marks may be filed, owned, by all, some, or individually by the following, Bret A. Lohnes, Captain Bret's Tattoo Shop Inc. and www.tribal-celtic-tattoo.com
copyright 1980